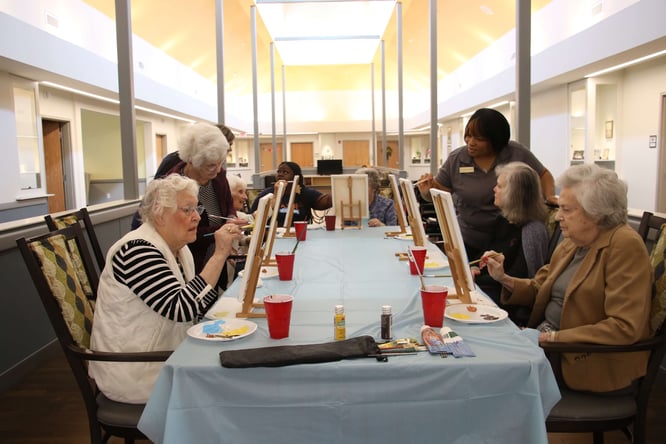 Just as the name implies, art therapy combines the creative process with psychotherapy, to help individuals improve their mental health and overall well-being. Art therapy addresses the mind, body, and spirit – a holistic approach to quality of life that we heartily endorse here at Magnolia Manor. But we appreciate art therapy for another reason, too.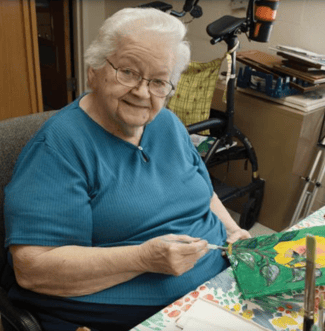 Seniors Benefit in Multiple Ways
Tim Dean, Director of Rehab at Magnolia Manor Americus, notes that activities such as coloring and board games help improve fine motor skills. They also work on cognition at the same time, and that's just the beginning. Various studies over the past two decades have shown that engaging in artistic activities or art therapy can help seniors:
Soothe feelings of depression or loneliness
Improve dexterity and alleviate pain – by manipulating fingers and hands, and by re-focusing the mind on a creative endeavor
Communicate – for dementia patients, especially, creating artwork can stimulate the senses. Offer an alternative for those no longer able to express themselves and even bring back forgotten memories
Improve self-esteem
Feel more in control, an issue many seniors struggle with as they begin to lose independence
Improve their immune system
Have fun
Strengthen their faith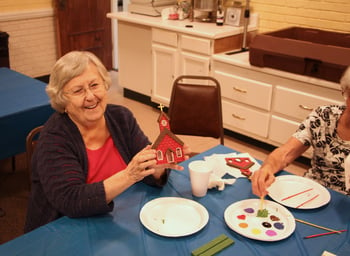 The Truth Is, All Art Is Therapeutic
"It gives seniors an opportunity to express their feelings in the moment," says Christian Tyson, Magnolia Manor Communications Coordinator. "The opportunity to create releases endorphins that boost satisfaction and happiness. And while they're engaged they can focus on one thing, taking their mind off whatever might be bothering them." That's especially important now, she notes, because COVID-19 has increased everyone's stress level.
Art at Magnolia Manor
All of our Magnolia Manor senior communities offer art programs. These activities generally draw the widest participation among all of the many resident activities available, although the specifics vary considerably from campus to campus.
The main art activities include painting and seasonal projects, but some communities offer coloring, knitting, basket weaving, sewing, and other artistic pursuits. Americus Retirement Center also has a knitting club. And at our Columbus campus, holiday-themed art sessions such as coloring Easter eggs are very popular.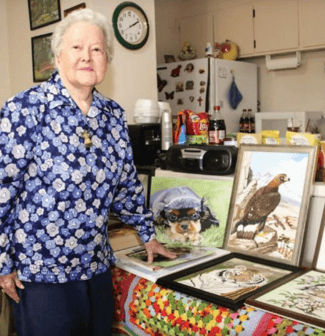 Many of our campuses also offer painting lessons. Painting instructors have worked with residents of our Mattie H. Marshall Memory Care Center, Americus Retirement Center, and Macon campus. Art-inclined residents at Americus work on projects all year long, in preparation for their Annual Art Bazaar. We don't know yet whether COVID-19 restrictions will put those traditions on hold this year.
Art therapy and resident art-based activities are not about becoming the next Picasso or Rodin. But we're proud to say that we do have some really talented artists living among us here at Magnolia Manor. Want to meet some of them up close and personal, as the saying goes? Check out the Creative Corner feature article in every quarterly issue of our online Manor Living magazine.
And if you want to know about senior living where art is readily accessible, we invite you to chat with us about Magnolia Manor. With nine campuses throughout Georgia and residential options from independent or assisted living through memory care and skilled nursing, we offer a full spectrum of care. The number to call is 855.540.LIFE (5433).