"Where can I afford to live?" That's a question that keeps many seniors and their families awake at night, worrying.
Seniors who are independent are, by definition, able to handle all of life's necessities on their own. But as we get older, that's not always so easy. Homeowners, especially, find that heavy-duty yard work and home maintenance are too much for increasing aches and pains, not to mention the expense. And any senior, no matter where they live, can find themselves needing a little help with certain tasks or activities now and then.
Nonetheless, seniors today want to remain independent as long as possible, living in familiar surroundings. The good news is that seniors who are active, in good health, and who want to live independently can choose from a broad spectrum of housing options. There are single-family homes, apartments or condos, mobile home parks, RVs equipped for retirement travel, and many types of senior living or retirement communities. As long as you can afford them, all options are wide open.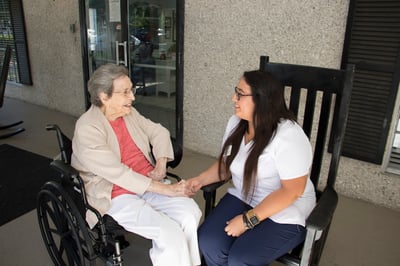 But limited funds can mean very limited options. A 2018 AARP study revealed that while three-quarters of adults age 50 or older would prefer to age in place, "many older adults live in poverty or in very economically insecure situations." Fortunately, there are programs available to help low-income seniors afford the cost of independent living. One of those programs is called Supportive Housing.
Here at Magnolia Manor, we hear frequently from seniors and their adult children who are very worried because money is tight. Yet, every senior deserves to live in a setting that feels safe and comfortable. Supportive Housing can be a Godsend. It can provide a life-changing transition for seniors who are already living in subsidized housing but are looking for a different type of environment. And it can be a lifeline for seniors who are coming to the frightening realization that their retirement income simply won't cover the costs of regular independent living.