We all want to live life to the fullest, but that can become more difficult as we age. We become more susceptible to strokes, cardiac events, falls and other accidents. These things and other factors can leave our bodies weaker and impair our ability to perform everyday tasks, to get around effectively, to eat, or even to speak clearly.
Falls are the number 1 cause of injuries to adults 65 or older, including fatal injuries. One of the leading causes of falls is balance problems, which affect about a third of seniors (even more so past age 75). Another major concern is stroke. According to the Centers for Disease Control, 795,000 Americans suffer a stroke each year – and 140,000 of them die. More than half of seniors who survive a stroke are left with impaired mobility.
Thankfully, seniors can take advantage of rehabilitation therapies to restore – or at least improve – their physical and functional capabilities. By the time we reach our senior years, many of us have already experienced first-hand the benefits of physical rehabilitation, thanks to a broken bone, joint injury, or the like. Senior rehabilitation is essentially the same, but often broader in scope due to the more complex health needs of older adults.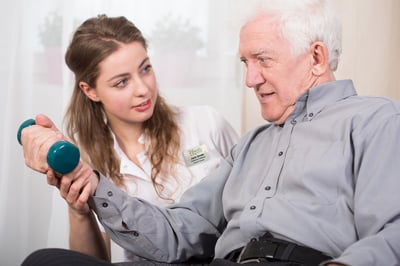 Say your senior Mom or Dad has suffered a serious injury, heart attack, stroke, joint replacement or another type of surgery. They are ready to leave the hospital, but not ready to return home – at least not yet. Senior rehabilitation provides an ideal transition period, in which seniors can continue to recover medically, functionally, and emotionally. The goal is always to restore maximum, if not full, independence.
Rehabilitation can help seniors who have experienced:
Orthopedic injury or surgery such as joint replacement or amputation
Multiple traumatic injuries
Cardiovascular events such as heart attack or stroke
Neuromuscular disorders
Traumatic brain injury or spinal cord injury
Deteriorating vision
Depending on each person's specific situation, rehabilitation may include one or a combination of therapies:
Physical therapy aims to increase strength, flexibility, and function of limbs and joints and to improve balance for standing and mobility. Physical therapy also helps reduce pain.
Occupational therapy doesn't mean your Mom or Dad is expected to return to work. This type of therapy is designed to strengthen fine motor skills and improve other capabilities required to perform the tasks that occupy us daily, such as personal hygiene, dressing, cooking, and writing. Occupational therapy often involves learning to do things differently or to use adaptive equipment.
Speech therapy assists patients who have difficulty swallowing or speaking clearly, often the result of a stroke or progressive disease such as Alzheimer's or Parkinson's. Communication and eating are life-critical! In some patients, speech therapy can also help with cognitive skills such as listening, memory, and problem-solving.
Unlike substance abuse programs – you cannot simply "check yourself in" for senior rehabilitation. You must have a note from your doctor (or the discharging hospital) that verifies your therapy is medically necessary. This officially begins the process of creating a personalized care and treatment plan.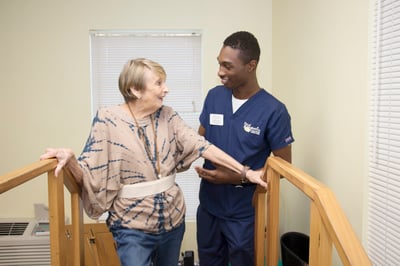 Senior Rehabilitation at Magnolia Manor
As a non-profit, faith-based organization, Magnolia Manor serves seniors in nine communities throughout Georgia. Among our campuses, we offer all types of senior living, from fully independent to assisted living, memory care, skilled nursing and rehabilitation services. Each campus is unique in its own ways, but the one thing that never varies is our absolute dedication to providing exceptional, personalized care in a family-like environment.
At Magnolia Manor, five of our nine campuses feature onsite rehabilitation centers:
Americus
Buena Vista
Columbus
Midway
St. Simons Island
All five of our rehabilitation centers serve residents of that particular Magnolia Manor campus. We also treat patients from the surrounding community. These patients are not necessarily seniors, they may be as young as 20-something. But they come to us for essentially the same reason – to recover strength and mobility following surgery, an accident or some other type of injury. Non-residents may receive therapy either as outpatients or as short-term inpatients.
Each campus has a different layout. At Americus, for example, our new Rehab Center is separate from our skilled nursing facility, but they are connected by a hallway. This makes it easier for our skilled nursing staff to serve inpatient rehab patients as well. Our rehabilitation therapists are available to serve all residents when necessary.
Short-term inpatient services are provided for those who have been hospitalized but who need more time and assistance to recover before going home on their own. On average, our patients stay about 33-34 days as inpatients. For outpatients, a typical regimen may involve 2 to 3 sessions per week for 4 weeks.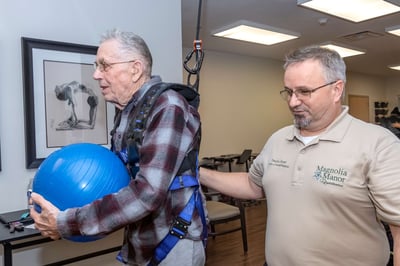 Non-resident rehab patients are usually referred directly to us by the hospital/doctor which is discharging them. However, we also see patients (both seniors and younger) who were discharged to go home only to find they cannot manage on their own after all. Our care team evaluates each person according to their doctor's orders, then develops an appropriate weekly inpatient or outpatient therapy schedule.
As a faith-based organization, we offer pastoral care as well as therapy and skilled nursing services as needed for each patient. Our ecumenical outreach includes all faiths and is always available to anyone who desires the extra comfort that pastoral care can bring.
Because rehabilitation is often required by seniors. Knowing what to expect ahead of time can also be a tremendous comfort for both seniors and their families. In this guide, we will explain when and why rehabilitation is prescribed. The different types of rehab services and settings. What it's like to be a rehab patient, what rehabilitation costs, and how to choose a rehab center that will help your loved one feel comforted in mind and spirit while their body is recovering physical strength and functionality.