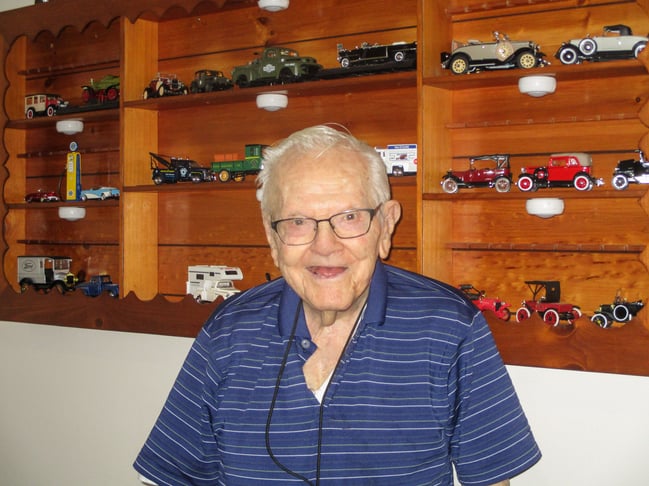 You think you've seen a lot in your lifetime? Just wait till you've been around as long as Albert Hochwald and Bill Brown. Albert is 103 and Bill is, as he says, 102½. We recently caught up with these two gentlemen, both of whom reside at Magnolia Manor St. Simons Island, to hear some of their stories.
Their Secret? Good Genes.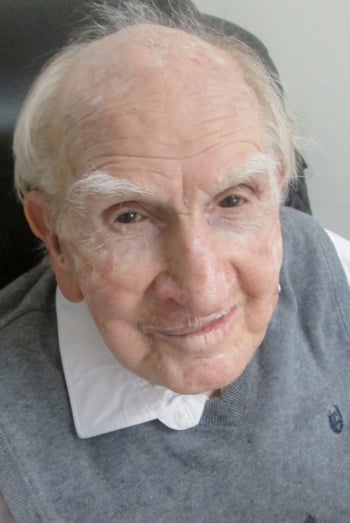 Bill Brown has a 99-year-old brother who lives on St. Simons Island and a 96-year-old sister who lives in nearby Brunswick (just seven miles away on the mainland) where they were raised. "We inherited longevity from our grandmother on our father's side," he explains. "She died at 91 after having 12 children. She was a right-healthy lady!" That said, at age 98, Bill did undergo bypass surgery (5 bypasses).
"All you have to do is keep breathing," advises Albert Hochwald. Like Bill, he comes from strong stock. Though his dad passed away at age 68, his mom lived to 90, as did his sister and brother. He also attributes his longevity to working hard and staying busy his whole life, adding, "I had enough brains at 25 to stop smoking."
When Albert turned 100, his family threw him a big bash. For his 103rd birthday, he went out to dinner at his favorite local restaurant, where his favorite waitress treated him to a crown, singing and free dessert. And he just returned from New York – the wedding of one of his grandchildren.
The Most Significant Change in 100+ Years? The Automobile.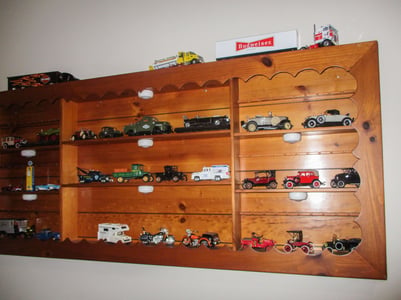 It's not surprising that both men named the automobile as the biggest change they've witnessed, since transportation has played a big role in both of their lives. Albert's collection of cars, trucks and trains is on display in his apartment.
Bill remembers that Brunswick had streetcars "before autos put them out of business. They put the ferry out of business, too," he notes. Now there's a causeway to Jekyll Island and five bridges from the mainland to St. Simons. But he loves all that water. As a child, he played with friends in the creek in front of his house, before radio or TV were common. They built stick sailboats and sailed them, and Bill has remained a sailing enthusiast throughout his life.
For Albert the demise of the horse and wagon stands out. Before refrigerators were invented, everyone had an ice box. The ice man would come around in his horse-drawn wagon with a 100-pound cake of ice. He would use a pick to cut off a piece to fit the home's ice box and bring it inside. He'd stay to chat with the homeowner for a few minutes while his horse – which knew the route as well as he did – would move on to the next stop and wait for him.
Wartime Memories (We're Talking WWII)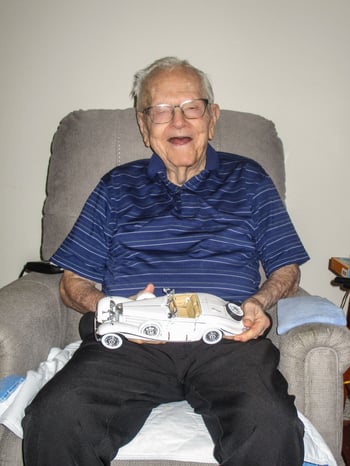 Albert served five years in the Marine Reserves, then three years in active duty, as an electrician. He was stationed in the Marshall Islands, "packed and ready to go to Okinawa, but the bomb was dropped on Hiroshima." That changed everyone's plans.
Bill remembers how Brunswick changed during the war. In 1940, he recalls, there were about 15,000 people in Brunswick and 50,000 in the entire county. Then 16,000 people came to town to work in the shipyards. There were German boats just off the coast. Bill remembers when a German submarine sank two oil tankers off St. Simons Island. "A local attorney who was a Navy Reservist was called up to Naval Intelligence and sent to interview the survivors," he says. "Most were so drunk they couldn't give him much information. They were well-oiled," he laughs.
Retiring to Magnolia Manor
Bill worked as a real estate broker and recalls selling a property on famously upscale Sea Island, Georgia in the early 40s for just over $25,000! He still holds his license #284 – he just renewed it for four more years – but new licenses carry numbers higher than 173,000. He moved to Magnolia Manor 5-6 years ago as an Independent Living resident, later moving to Assisted Living and then transitioning to the Skilled Nursing center.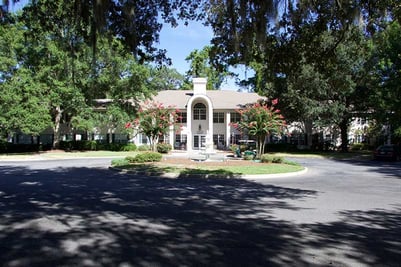 Albert Hochwald worked for 30 years but has been retired even longer. He lived in Pennsylvania but followed his grandkids after retirement, first to New York for five years, then to Georgia, where he's lived for 40 years. He lived in his own home on St. Simons Island until moving to Assisted Living just a year and half ago. He wanted to stay on the island because his wife of 70 years is buried here. She passed away from cancer in 2010.
What's it like living at Magnolia Manor? "There are a lot of women here," Albert giggles, "but they're not my age."
There's More to Tell
Albert says his first 103 years have been "quite an experience." Bill is in the process of writing his memoirs. You'll have to wait to read his book, or you could retire to Magnolia Manor St. Simons Island and hear more stories first-hand from Bill Brown and Albert Hochwald.
To learn more about senior living at St. Simons Island, or any of our nine campuses in southern Georgia, feel free to contact us online or at 855-540-3455.