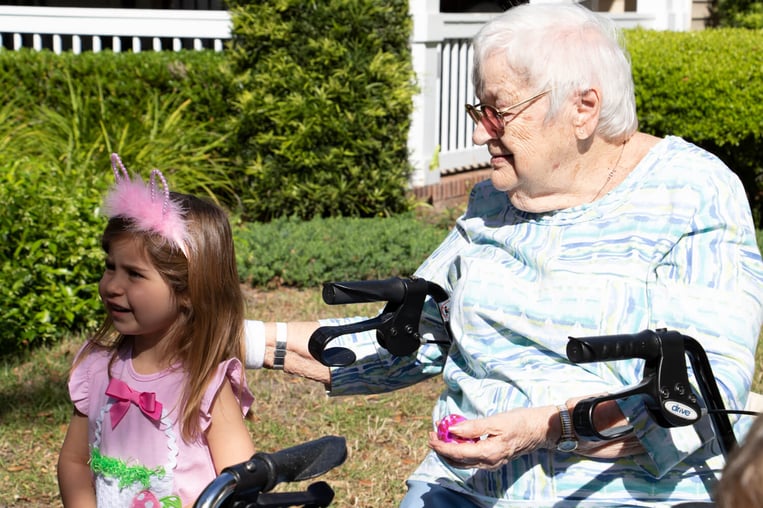 For many of us, childhood memories are filled with recollections of Sundays with Grandma and Grandpa going out for ice cream, visiting a baseball game, or simply hearing stories and playing at home.
Memories like these warm our hearts, and helped shape who we are today. As parents ourselves, prioritizing the relationship between your kids and your own parents is likely a priority. After all, you want your children to have those same types of special memories with their grandparents!
Time together for grandparents and grandchildren builds more than memories.
While building happy memories for your children and your parents is important, research shows that strong bonds between grandchildren and grandparents can also support:
Emotional Well-being
Your children may get excited about a trip to see Grandma or Grandpa, but the positive emotional impact reaches even further than an exciting car ride. A Boston College study found that strong bonds between grandparents and grandchildren reduced depressive symptoms in both groups.
Important Life Lessons
The impact of hearing Grandma or Grandpa share stories of struggle, where hard work and perseverance led to a happy ending, cannot be underestimated. Children and young adults can sometimes feel like their challenges are insurmountable. But, hearing from a trusted grandparent that they too faced seemingly insurmountable challenges, and were able to overcome them, can teach powerful life lessons.
Exposure to New Ideas
Many of us can be "stuck in our ways," but this can be especially true for older adults. Close relationships with grandchildren can usher in new ideas and perspectives, which can be especially powerful for seniors. Whether it's embracing new technologies or catching up on the latest music trends, time with grandchildren can help widen seniors' horizons, helping them feel more connected to their families, but also to society.
Stronger Peer Relationships
Explaining the latest tech gadget may be second nature to your children, but it can test their patience to explain to Grandma or Grandpa, who may take a bit longer to understand cutting-edge technology. The patience and interpersonal skills your kids are developing by spending time with their grandparents, however, has a powerful impact on their relationships at school. A study of children between the ages of 11 and 16 found that close relationships with their grandparents correlated to benefits that include fewer emotional and behavioral problems, and fewer difficulties with peers.
Improved Cognitive Ability
Spending one day a week watching the grandkids can also help Grandma's mental agility. One study found that grandmothers who spent time watching their grandkids performed better on cognitive tests than those who didn't spend time with their grandchildren (or women who don't have grandchildren).
Longer lives
Perhaps most powerfully, research suggests that grandparents who babysit their grandkids live longer lives. Chasing after grandchildren can provide some serious physical activity, which provides incredible health boosts. Spending quality time with grandkids, who often have a sunny outlook on life, can also reduce stress and worry for seniors.
Strong relationships have a powerful effect.
From trips to the park to ice cream parties, and simply being together, time is precious for grandparents and grandchildren. Here at Magnolia Manor, we love seeing our residents meet with grandchildren and other family members. Sometimes they spend time here on campus, while other times they head out for other adventures.
Across our eight campuses in southern Georgia, our staff creates activities to help nurture those relationships and to provide for our residents' physical, spiritual, social, and mental needs. To learn more about senior living options with Magnolia Manor, contact us on our website or at 1-855-540-LIFE(5433) to speak with a member of our team.