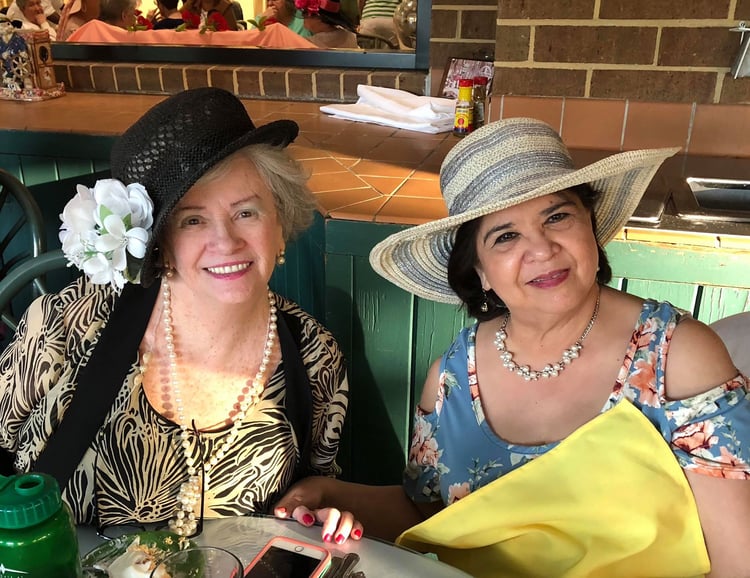 The list of priorities when moving into a senior living community can get pretty long. After all, this is a busy and exciting time! It's at a time like this that maintaining your friendships is especially important.
Ever watch reruns of The Golden Girls? Dorothy, Rose, Blanche and Sophia were on to something. Research shows that maintaining friendships into your senior years can have a bigger impact on health than maintaining relationships with family. Friends are important!
Follow These Tips to Maintain Important Friendships When Moving into a Senior Living Community
While you may feel that maintaining friendships is going to be a challenge, here are several fun and easy ways to stoke the fires of friendship: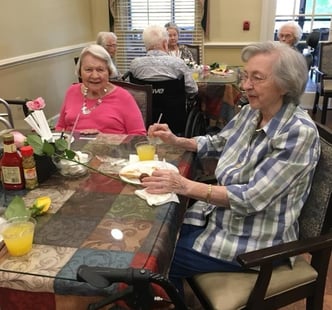 Put friend activities on your calendar.
It seems like everyone is busier these days, doesn't it? One of the best ways to maintain friendships after moving to a senior living community is to schedule activities on your calendar.
Commit to these activities by adding them to your smartphone's calendar and making sure to set reminder alerts. Or, you can schedule fun with your friends on a paper calendar and hang it somewhere visible.
Then, when you're out with friends be sure to schedule your next get-together to ensure staying in touch doesn't fall through the cracks. It's like putting your friendship maintenance on autopilot!
Donate your time together.
Want to shake things up when spending time with friends? Many communities in southern Georgia have volunteer opportunities for seniors. From snuggling newborns to reading stories to children and more, giving back with friends is a fun and rewarding way to spend time together.
As a bonus, giving back to the community through volunteerism has been shown to contribute to better health in seniors. Spend time with friends, improve your health and make a difference in the community? That's a winning combination.
Stay connected digitally.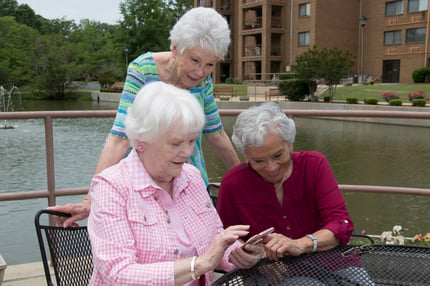 Talking to friends on the phone never goes out of style, but you can also send text messages or emails to maintain important friendships once you've moved into a senior living community.
Pew Research found that nearly half of all seniors own a smartphone. Group texts can be a great way to nurture friendships using this technology. They allow three or more individuals to start and maintain an ongoing conversation in text. Share pictures, emojis, stories -- think of group texts as a sort of "cell phone coffee shop."
Social media may seem like something for your kids and grandkids, but seniors are active there too. In fact, 41% of U.S. adults ages 65 and up are on Facebook. If you don't already have a Facebook profile, one of your kids or grandkids -- or a staff member at your senior living community -- can help you create one and add your friends and family. Pretty soon, you'll be watching videos, enjoying pictures and hearing stories from friends and family near and far.
While group texts and social media can be great ways to nurture friendships online, they shouldn't replace regular get-togethers. They're simply a fun way to maintain friendships between activities.
Take advantage of your senior living community.
At Magnolia Manor, we have a full calendar of events for residents to enjoy with their family and friends. From ice cream socials and 5Ks to coffee and more, there are many ways to maintain and nurture your friendships at our eight campuses.
Our nonprofit, faith-based community has been providing exceptional care to residents since 1963. From maintaining important friendships to staying active, learning new hobbies and more, we are committed to your continued happiness. Call us at 855-540-LIFE (5433) and our team will be here to answer your questions.