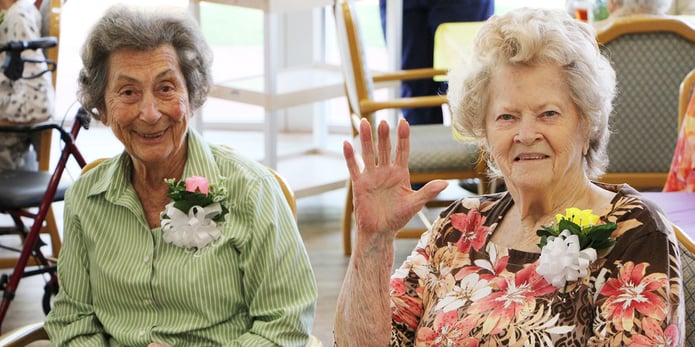 Consider this: here in the US, 10% of those age 65 or older have some form of dementia according to a new study conducted by Columbia University. They say another 22% of Americans over 65 have mild cognitive impairment.
Not surprisingly, dementia becomes more prevalent with age – just 3% of those age 65-69 but 35% of those 90+. However, while dementia is a significant concern, it is not a normal part of aging. So how can you tell the difference between everyday forgetfulness and early signs of dementia, especially if you're concerned about an aging parent?
When to take "senior moments" seriously
We all forget things from time to time. We miss an appointment, can't remember someone's name at a party, where we set our keys or why we walked into the next room. These forgetful moments can increase as we age, and many people humorously refer to them as "senior moments." But it's not so funny when you know that early signs of dementia and similar conditions can appear as early as 15 years before diagnosis.
It's also important to know that memory loss is just one potential indicator of dementia. If Mom seems to have decreased language skills or visual perception, attention deficits or even personality changes, these may be early signs of dementia.
This infographic, "Forgetfulness: Normal or not?" is a good quick-reference guide. Below are some key signs to look for.
Do reminders help with recall?
Oftentimes, when we forget something we are later reminded of it – we see the forgotten appointment on the calendar, we find our keys, we get home from the store and see our shopping list and have an "oh, right!" moment. If reminders do not help Mom recall something that has slipped her mind, it could be a sign of dementia.
Can your loved one recall important memories?
Memories often become less clear as we age. However, healthy brains should be able to recall a memory after some prompting. If you've tried everything possible to help Mom recall a memory, but to no avail, it may be time to schedule a doctor's visit.
Does Mom forget the same thing repeatedly?
We all need repetition to remember the lyrics to a song or learn other new information. However, if Mom keeps asking the same questions over and over because she cannot recall a name or other important information, this could be more than everyday forgetfulness.
Does she get confused about familiar things?
Early signs of dementia can include getting lost in places Mom knows well or having trouble placing people she knows well. Does she lose track of time or seem uncertain about the time of day? Does she have trouble following directions or her favorite recipes?
Has her behavior changed?
Reduced interest in personal grooming or hygiene may be an early sign of dementia. Think about whether your Mom is eating properly, bathing, dressing in clean clothing, etc. Is she engaging in unsafe behaviors such as walking away from hot food on the stove?
I'm seeing signs of dementia in my mother. Now what?
Go with your Mom to visit her doctor and discuss your concerns. If she is diagnosed with dementia, Alzheimer's or a similar condition, know that Magnolia Manor is here to help. Caring for a loved one with dementia requires specialized training and an environment that is both secure and comfortable.
Memory Care at Magnolia Manor provides exceptional, personalized care to patients at all stages of dementia or Alzheimer's disease. For families, we offer education, pastoral counseling, and support groups to help navigate this challenging diagnosis. To learn more, contact us at 1-855-540-LIFE(5433).