You can bring almost anything you want when you move into an independent or assisted living community. The only limitation is that whatever you bring must fit into your new home. You will be downsizing, perhaps significantly, so the size of your new space will determine how much you can bring. The question then becomes which items do you need and want most?
Paring Down a Lifetime of Belongings
Our detailed guide, "The Process of Moving into a Senior Living Community," includes helpful suggestions for prioritization. One of the most important is identifying items you want to pass along to children or beloved friends. Now is the perfect time to time to ask about keepsakes they may want. Now is also the perfect time to transfer possession of those items, while you can see the joy on their faces.
You can say goodbye to anything that relates to household chores because you won't need those any more. You can give them away, or hold the Grandmother of All Garage Sales to earn some cash as you divest yourself of items you'll no longer need.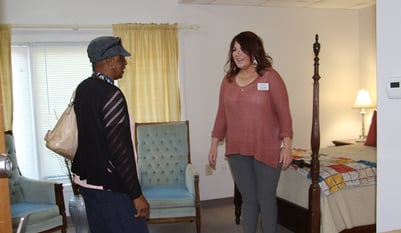 Keep only the essentials to bring with you
You want your new quarters to look and feel homey, but you'll be most comfortable if it's easy to move around. So consider your new floor plan as well as overall size to determine what will fit and where you will put it. Remember that you may have limited closet or other storage space. Focus on the practical, but choose items that hold the greatest memories for you.
Cookware - You'll need some for independent living, but not for assisted living. That said, even though assisted living provides regular full meals, do take some dishes, glassware, and utensils to prepare your own snacks. You may be able to bring a small coffee maker or electric tea kettle. You may also want a small microwave or toaster oven and a compact fridge, if you have room.
Cleaning - You may even want to bring a wastebasket that matches your decor because even something so simple can make your new living arrangement feel more like home. Although housekeeping is provided, you might want to bring a lightweight broom and paper towels to clean up small messes. Even bath tissue is provided, but if you have a favorite brand, ask if you should bring it.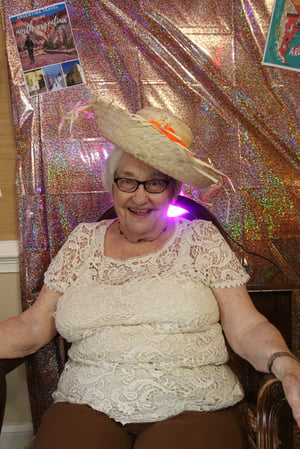 Clothes - Bring your favorites -- items that are comfortable and make you feel your best – but bring special occasion outfits, too. Don't forget underwear, socks and shoes, PJs, robe and slippers. And your toiletries!
Furniture - Depending on your living arrangement, you might be able to bring your existing bed, nightstand, dresser, a comfortable chair and side table (and if space allows, a small sofa), and a lamp or two. Keep in mind the old maxim, less is more. Your home will feel more spacious, and it will be easier and safer to move around without clutter. No rugs. Consider a couple of folding chairs for when you have guests.
If your current furniture is too big, switch to smaller pieces. Side tables with drawers or shelves double as storage without taking up more space.
Linens - Ask staff whether you'll need to bring your own bath towels, shower curtain, and bedding (sheets, pillowcases, your favorite quilt or comforter). Some programs provide these, but they may not match your decorating style.
Electronics - You will want a modest-sized TV and a compact sound system and CDs if you love to listen to music. Definitely bring your computer or iPad so you can communicate with the grandkids!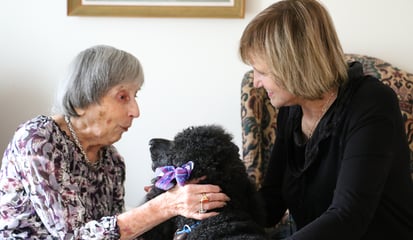 Cherished mementos - You won't have lots of room for collections, but one or two pieces should fit. Photos are a must! Frames that hang on the wall and hold multiple photos are a great way to bring more pictures while conserving surface space. Bring some favorite artwork, too.
Personal - Bring meaningful items pertaining to your faith, because spirituality is an important aspect of life no matter where you live. Consider bringing a plant to adorn your windowsill or bedside table.
Welcome to Magnolia Manor!
Our senior living communities feel like home no matter what you bring with you. Come see for yourself. To schedule a visit and tour, give us a call at 1-855-540-LIFE (5433).