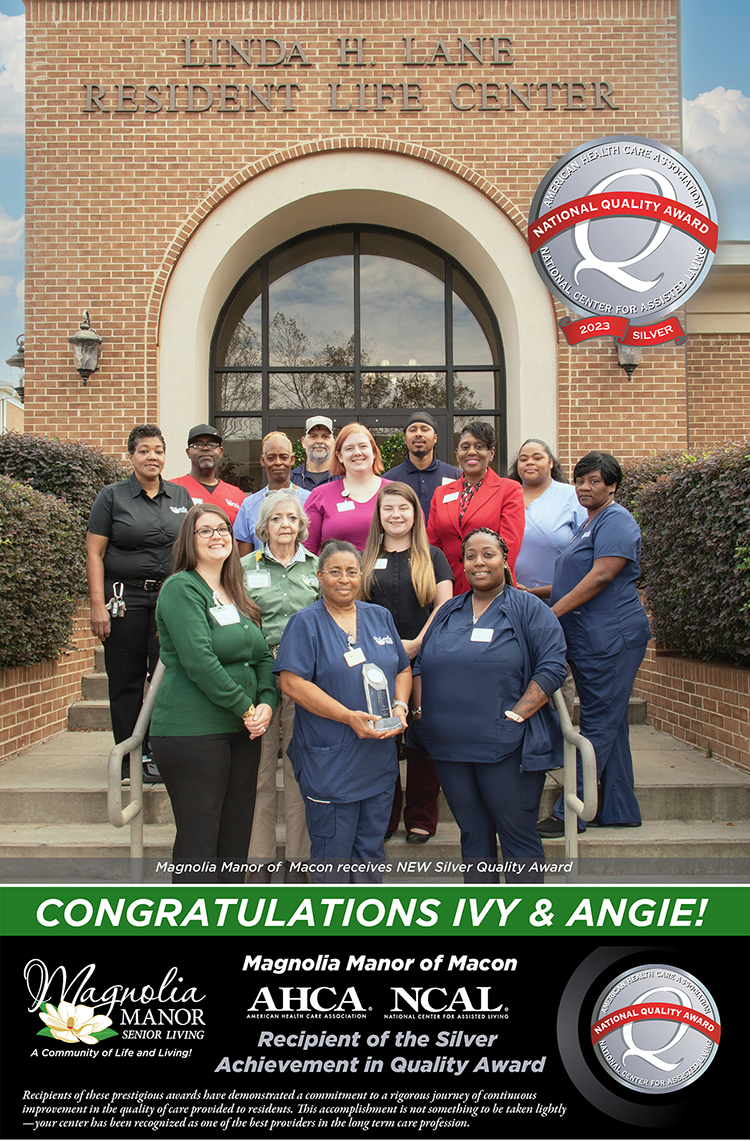 Assisted Senior Living
Magnolia Manor in Macon, GA
Award winning Magnolia Manor in Macon offers a variety of options for active, independent seniors aged 62 and older who are in good health and want the freedom to come and go as they please, but need a little assistance with the transition that comes with growing older. Senior living residents enjoy the independence of their own home without the hassle of maintenance or lawn care!
Assisted living is about more than a place to sleep and getting the daily help you require. It's about the setting. The people. The amenities. The lifestyle. And that special something we call atmosphere. It's a place where you can kick back but also continue to stretch and grow. For residents at our Magnolia Manor campus in Macon, assisted living is about community, life and living.
Assisted Senior Living Accommodations
Our Macon campus offers 24 assisted senior living one-bedroom and two-bedroom apartments. These apartments are just a short walk to the lovely dining room where you can enjoy a delicious home-cooked meal with friends and fellow residents.

Our Assisted Living wing offers 24 (1 and 2 bedroom) apartments for residents requiring additional assistance. These apartments are just a short walk to a lovely dining room, located in the Linda H. Lane Resident Life Center.
Spacious Living Area
Emergency Call System
Housekeeping Services
Fully Prepared Meals
Complete Activity Schedule
Local Transportation Schedule
Assisted Senior Living Amenities
Even though assisted living may seem limiting at first glance, it offers an astounding array of opportunities for those willing to partake.
Residents of our Macon campus enjoy a variety of amenities such as daily scheduled activities, fishing in our small lake, taking a stroll on our manicured paths, chapel services with our on-site chaplain, and more. Regular transportation is provided for routine outings and special events taking place in the Macon community, like the annual Cherry Blossom Festival.
As difficult as it may be to admit you need help, assisted living really provides the best possible solution for seniors. You can retain a degree of independence but rest assured the help you need is right at hand. Instead of pretending everything is fine or worrying about the future, you can focus on staying active and engaged in the world around you.
Our residents like to think of Magnolia Manor as their home base – a place where you have a private apartment but are surrounded with friends, opportunities, and devoted, caring staff. Whether you're more of a homebody, or you're the adventurous sort who wants to get out and explore the area's natural beauty and local sights, assisted living in Macon supports your desired lifestyle.
Enjoy everything Magnolia Manor has to offer, and get the help you need, when you need it, without losing your independence!
A Community within a Community
Our Macon campus is very community-oriented, like a family. Macon itself is a small town, and our residents are often involved with the schools and local organizations. We aim to not only build strong relationships among residents and staff, but we also strive to create meaningful connections with businesses, churches, and schools that surround our campus.
---
Macon Assisted Living
Virtual Tour