Contact: Ty Kinslow, Senior VP for Communications
Telephone: 229.931.5925
Email: tkinslow@magnoliamanor.com
Website: www.magnoliamanor.com
FOR IMMEDIATE RELEASE
January 13, 2021
Magnolia Manor COVID-19 update
Magnolia Manor Home Office, Americus, GA, January 13, 2021 – Magnolia Manor President and CEO Mark R. Todd reports that COVID vaccinations are underway. Magnolia Manor of Columbus East Nursing Center, Magnolia Manor of Midway Nursing Center and Magnolia Manor of Marion County have completed their first vaccine clinics. Other facilities schedules are as follows: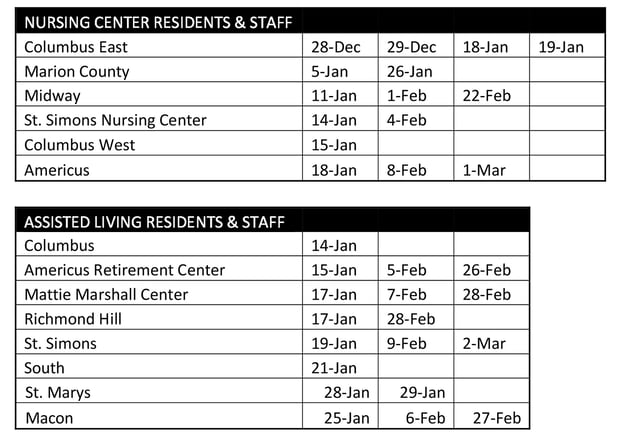 "We are working hard in all of our communities to encourage all residents and our staff to be vaccinated."
"We are in a very difficult time right now as community positivity rates have climbed back over 10% except Sumter County. Throughout Georgia many communities are now seeing spikes above 20%. The troubling difference is when we experienced spikes in 2020 , the numbers were declining rapidly. Today, we remain in the middle of a significant surge with the numbers continuing to climb daily across the state."
The vaccines are more important than ever to curb these outbreaks with residents and staff members testing positive at Columbus East and Marion County. Unfortunately, Marion County has also experienced another resident loss due to COVID.
While most campuses continue to report no active COVID-19 cases among residents, three campuses have residents who tested positive in the past two weeks. The Americus Nursing Center had 1 resident who tested positive, Marion County has 12 residents who tested positive and Columbus East has 9 residents who tested positive. All residents are being treated in-house.
Todd further reported that in the past two weeks, 8 campuses also reflect their community increases with employees who have now tested positive. 9 employees tested positive at Magnolia Manor's Americus Nursing Center and 9 staff members at the Marion County campus also tested positive. 4 employees at the Columbus East, 1 employee at the Columbus West also tested positive. 1 employee at the St. Simons Nursing Center, 1 employee at Midway and 1 employee at South also tested positive during the last two weeks.
"These positivity rates have spiked after the holidays, so we urge everyone to use a mask, social distance and use other precautions to try and keep everyone safe until we all get vaccinated. All of the communities across Georgia where we have residents and employees are experiencing increased positive test results."
"We are in a battle right now to serve and protect all of our residents and staff members so anything you can do to follow the CDC, CMS and Public Health guidelines will help, including to get vaccinated when possible.", said Todd.
Magnolia Manor has regularly reported that any employee with symptoms or who tests positive is placed on leave and must be cleared before returning to work. If only one employee or resident tests positive on a campus, outbreak testing protocols are implemented.
Magnolia Manor continues to follow all guidelines recommended by the CDC, CMS and the Georgia Department of Public Health.
As a 501(c)(3) faith-based nonprofit, Magnolia Manor welcomes donations, which are tax deductible as allowed by law.
Headquartered in Americus, Georgia, Magnolia Manor is a faith-based, tax-exempt, not-for-profit organization affiliated by covenant with the South Georgia Conference of the United Methodist Church. Magnolia Manor was established in 1959 and employs almost 1,000 staff who serve about 1,500 senior adults daily throughout South Georgia. Services at our nine locations are open to all persons, regardless of denominational affiliation. We provide various levels of care, including Independent Living, Catered Care, Personal Care, Assisted Living, Skilled Nursing, Rehabilitative Therapy and specialized Memory Care.
# # #