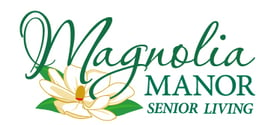 June 11, 2020
Dear Residents, Families and Staff,
The time has come in our fight against the coronavirus, COVID-19, to map out our next steps. This letter is designed to help you better understand what we are thinking, planning and doing to accommodate the many challenges we have faced and will continue to face in this fight to keep everyone healthy and safe. We don't have all of the answers to combat this deadly virus, but we are following all state and federal recommendations to the best of our ability. It has worked very successfully in our independent living, assisted living and personal care areas but with less success in our skilled nursing areas. We continue to fight for safety on all of our campuses despite the inconveniences to our residents, their families and our staff. Our staff has done a tremendous job during very stressful times.
As the state and local communities we serve begins to open for business, Magnolia Manor continues to work and plan to accommodate these changes for everyone living in our facilities. The health and safety of our residents and staff will always be our first priority. Now that we have been in "lock down" mode since the first of March, it is time to set goals and to plan the who, what, when and where of getting our lives back to normal. It will be a new normal, but we can get there with love, understanding and patience. Our plan is to work slowly and methodically to achieve these goals. The easiest answer, but not necessarily the best answer, is to continue to keep things shut down and restrict contact for the foreseeable future. We know this is not sustainable for many reasons.
Our plans continue to evolve as we face many challenges throughout the whole process. First we locked down our facilities. Restricting access and contact to our most vulnerable people, our residents. Our staff began working through restricted rules with PPE (personal protective equipment), hazard pay and isolation areas. Major disinfecting procedures were implemented and continue today. All group gatherings were curtailed and visitation was cut off. It has been a long, hard, inconvenient road for all involved. Now that our local communities are beginning to reopen, we are working to take our next steps. It is very difficult to set exact dates and times for everything, but I can assure you we have been planning non-stop about what is next and how do we begin to loosen our restrictions. Our second step is testing. As many of you know, we have been testing all of our skilled residents. We are now implementing mandatory testing for all staff at all of our locations including the Home Office. We expect this to be completed by the end of this week, with most test results returned in a matter of days. This will give us a baseline to use for protection as we begin to reopen our facilities.
Once all of that has been achieved, we feel our next steps will be to open our beauty shops, start the group dining services again and allow small group activities. We will use all recommended precautions and everything will be controlled and monitored. Most will be scheduled with small size gatherings within social distancing guidelines. If we can successfully navigate these changes, we will move on to other less-restricted rules. Magnolia Manor has been planning to create an admission process that protects everyone as well as a limited scheduled visitation procedure. We want everyone to be able to begin to socialize and visit their loved ones as soon as we can make it safe for our residents. The schedule for all of these changes will be determined first by the testing results and second by how quickly we can get our staff ready to accommodate these changes in our daily procedures in accordance with the ever changing state and federal guidelines. We are working right now to make that happen, so you will begin to see things change soon,
We know this doesn't answer all of your questions, but sometimes just knowing that major discussions and planning are taking place can be helpful. Communication under these very difficult and changing conditions is oftentimes problematic, but our real time challenges can be unpredictable as we strive to be as transparent as possible. We will continue to complete daily updates to our website and release weekly press releases summarizing the week's past events for COVID-19 at Magnolia Manor. Please take the time to thank our staff who work on the front lines every day on your behalf. We didn't start or cause the virus, but we are impacted every day by how much we can do to protect and serve our residents, their families and our fellow staff members. Magnolia Manor is committed to giving glory to God in service to our residents as we strive each and every day to keep them safe and protected. Thank you for helping us to do the best we can for the loved ones entrusted to our care with your patience and understanding as we navigate through these trying times fighting the COVID-19 pandemic.
Sincerely,


Mark R. Todd
President & CEO