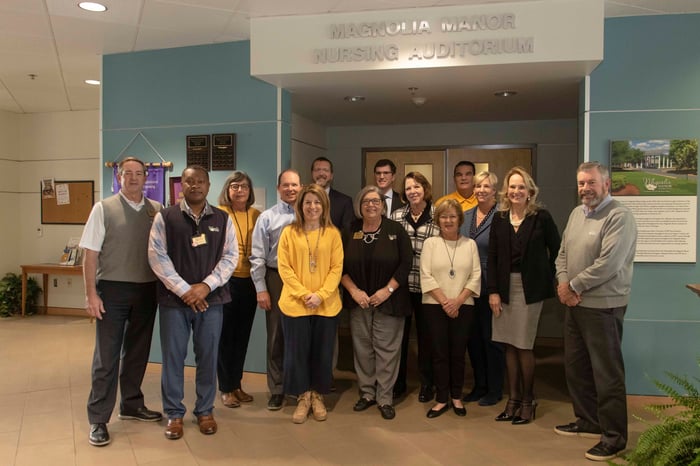 The Georgia Southwestern College of Nursing and Health Sciences Auditorium has a new name – Magnolia Manor Nursing Auditorium. GSW Assistant Vice President Stephen Snyder officially unveiled the change on February 10, in a dedication ceremony that celebrated the commitment and connection between two vital community entities.
The audience gathered at 11:30am, a diverse group comprised of assorted dignitaries and friends representing both GSW and Magnolia Manor as well as some of the nursing students and college athletes who personify the unique partnership that exists between GSW and Magnolia Manor. Those joining Stephen Snyder at the podium to add their remarks included: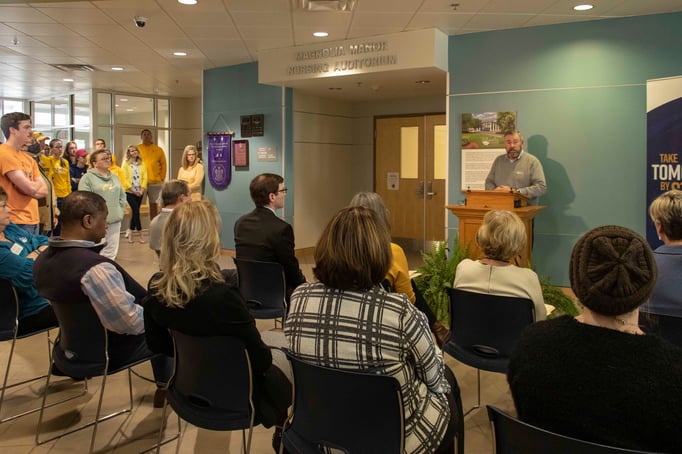 Facebook Followers Celebrated with Us
Since GSW's relationship with Magnolia Manor is well known but only a few could attend in person, the college posted about the ceremony on their Facebook page.
"Today we were honored to officially name the Magnolia Manor Nursing Auditorium in Carter I of the Rosalynn Carter Health and Human Sciences Complex. As noted on the new plaque outside the auditorium, Magnolia Manor and Georgia Southwestern have developed a partnership that fosters growth and development throughout our community."
It is a partnership that truly defines "mutual benefit," stronger than ever after several years. Here are a few highlights:
Magnolia Manor funds a scholarship for its employees to attend GSW if they'd like to further their education.
Many GSW nursing students complete their clinical studies with hands-on experience at Magnolia Manor. Some choose to make it permanent, joining our team as employees at Magnolia Manor.
GSW offers a variety of opportunities for their students to volunteer or intern at Magnolia Manor. As a result, students often develop close relationships with residents, who serve as surrogate grandparents for students far from home and family. Residents enjoy the same benefits in reverse. Even during the pandemic, students and residents have found ways to stay in touch.
Magnolia Manor and GSW both support each other with sponsorships, fundraising events, and in other ways.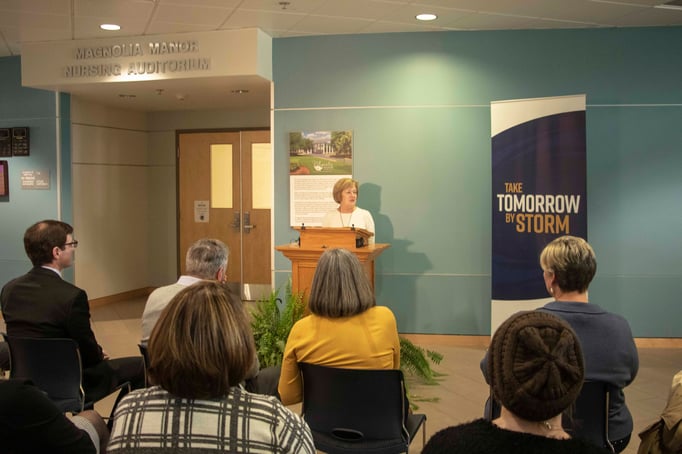 What a Great Day! (And What an Honor!)
As VP Snyder noted on Facebook, "We are proud to now display our longtime partner's name and history in one of the most utilized spaces on campus." Here at Magnolia Manor, we're proud and honored, too. We feel so blessed to have the kind of longtime, caring relationship we enjoy with Georgia Southwestern. Given the difficulties of the past couple of years, we feel especially blessed that we could all come together in person to celebrate the auditorium's new name.
If you were unable to join us for the dedication event, you can still attend after the fact, right here.
A Community Within a Community
Each of our nine senior living communities in south Georgia are communities within communities. We aim to not only build strong relationships among residents and staff, but we also strive to create meaningful connections with businesses, churches, and schools that surround our campuses. To learn more about senior living at Magnolia Manor, contact us online or give us a call at 855-540-LIFE (5433).