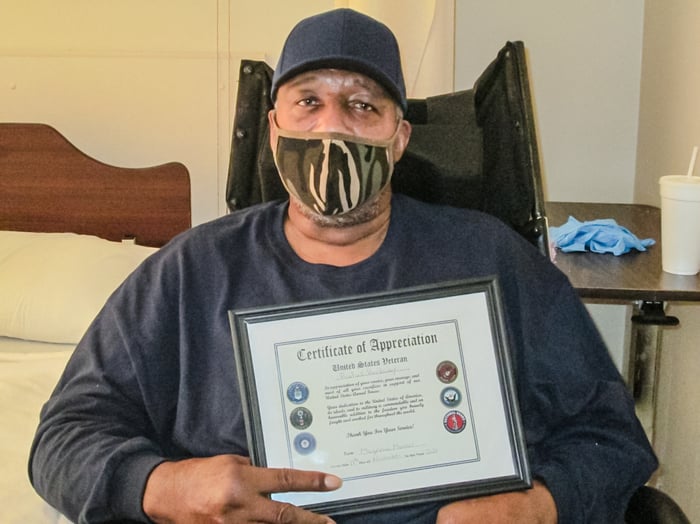 The minute you start talking to Rufus Hardaway, you just know that he is a nice guy – someone you look forward to talking with and just being around. Maybe it's the calm, kindly tone of his voice or the sense of humor you can hear just below the surface. If you were a resident at Magnolia Manor of Marion County, in Buena Vista, you would know Rufus Hardaway personally. He's a resident there, too.
Mr. Hardaway has lived at Magnolia Manor for "about a year and 3 or 4 months," he says, having moved from nearby Columbus to get the extra care he now needs. His nephew, who also lives in Columbus, comes to visit often. But, when his nephew isn't visiting, Mr. Hardaway loves to socialize with his fellow residents.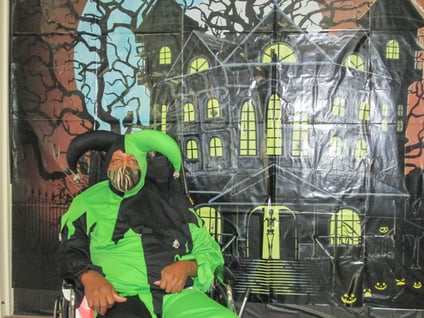 "I'm very easy to get along with," he reveals.
He is also one sharp dresser, according to Tina Gray. She's the Activity Director at Magnolia Manor. She says he is always color-coordinated from head to toe. When he's wearing blue, you'll find him sporting his Atlanta Braves ball cap.
Looking Back
Rufus Hardaway's father was in the military, so they moved around a lot. The family lived in Germany, San Diego, and several bases in Georgia, finally moving to Columbus in 1963. Rufus played first base on his softball team and center on his basketball team. At 6' 6", he was the tallest one on the team! After high school, Rufus joined the Air Force, where he spent four years working in transportation and equipment moving. Returning to Columbus, he worked 36 years in the steel mill.
At home, he liked working in the yard, where he could have lots of flowers. And now?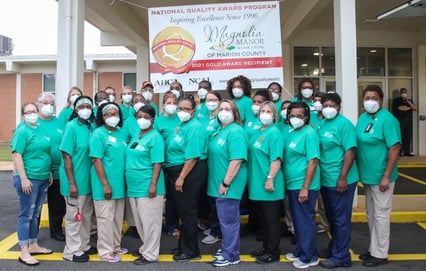 "It's Pretty Cool!"
Magnolia Manor in Buena Vista is a skilled nursing facility, but don't get the idea that there's nothing much going on. After all, this is the place which gets 5 stars from the Centers for Medicaid and Medicare Services (CMS) and recently was honored with the Gold Award for Achievement in Quality from the American Health Care Association and the National Center for Assisted Living. No wonder Rufus Hardaway reports that it is "pretty cool!"
He says living here is really nice, and there are lots of activities. He participates in almost everything, but his #1 favorite is bingo. That may be because he is a repeat winner – and winners get prizes.
Another favorite pastime is watching television in the solarium, a space with many windows that look out over the garden. "It's like going outside and watching TV at the same time," he says. When the weather is warm, he can go outside for real. He loves relaxing and watching the cars go by.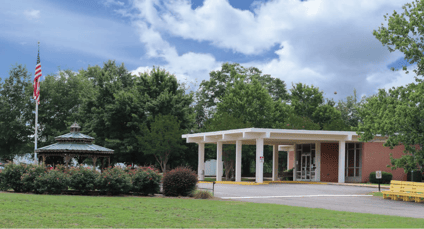 Putting Others First
Like Rufus, many residents like to watch TV. So who gets to choose the show? Well, Rufus especially likes watching westerns and the Price is Right. However, Tina Gray tells us that whenever Mr. Hardaway is in the solarium, "he will stop watching what he is watching if they like something else." He's there with a helping hand, too, if someone needs assistance with the remote.
And as it turns out, there's a side benefit to being nice. Rufus Hardaway also enjoys watching some of the soaps, ever since one of the ladies was watching them in the solarium and he got hooked.
Don't you wish Rufus Hardaway was your neighbor?!
Come See For Yourself
If you or a loved one are in need of skilled nursing care and looking for an exceptional place to live, you can learn more about Magnolia Manor in Buena Vista by contacting us at 855.540.LIFE (3533).