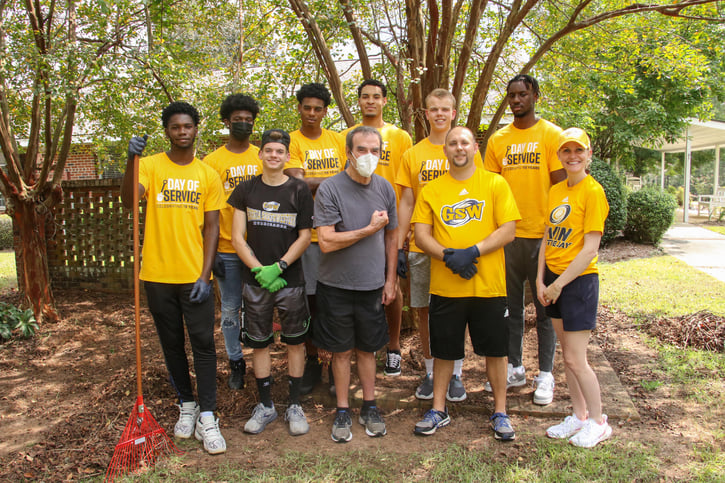 Each Magnolia Manor campus may be a community unto itself, but we are an active part of our larger community as well. It's the Magnolia Manor way, and boy does it bring wonderful rewards to everyone involved.
In Americus, the Junior Service League supports Magnolia Manor with bingo prizes throughout the year and an annual big-ticket gift. (This year it's all-new corn hole games, so popular with residents.) Members also come by monthly to host bingo. When they bring their young children with them to bingo or the annual Halloween Trick or Treat, our residents' faces really light up!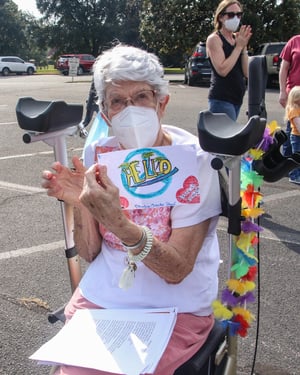 Our Americus campus is just 1.5 miles from Georgia Southwestern State (known locally as GSW), where all student athletes are required to participate in a community service program. They can choose from several options, but Magnolia Manor is the hands-down favorite. To say our residents love it, too, would be a vast understatement.
"They include us in everything, and we include them in everything," says Kathy Freeman, Activities Director at Magnolia Manor Americus. For example:
Residents get together for a daily coffee social in the mornings. The kids started attending, too, getting their own coffee pick-me-up after early morning training and a chance to socialize. For some, these gatherings morphed into multi-generational Bible study groups.
Students join residents for a lively game of bingo. Turns out the kids not only like to play, they love to call the games even more.
They come to dances and serve food at special events.
They visit with residents individually, helping to write letters and make calls, or simply pop in for a visit. Just recently, the basketball team came by to clean up the Memorial Garden courtyard in preparation for fall.
Back on their own campus, the students save seats at athletic events for Magnolia Manor residents. They also hold an official Magnolia Manor Day.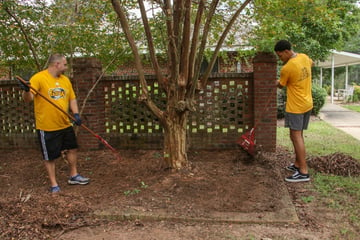 Pandemic-Inspired Creativity
Isolation requirements have been tough on seniors, who especially miss their children and grandchildren. Thanks to our GSW students, though, Americus residents have continued to enjoy a full measure of team spirit. The kids have found numerous ways to stay present but at a safe distance – coming by for window visits with big homemade posters and cheerleading performances, putting on parades, sending cards and gifts, and FaceTiming with residents.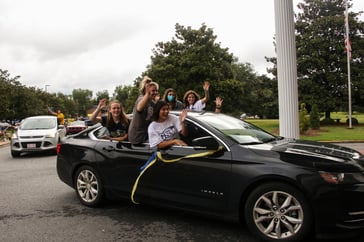 Just Like Family
Perhaps the most treasured interactions are the one-on-one relationships that develop. Often, these endure well beyond the student's formal commitment to the community service program.
One of our residents, who recently passed away, became very close to one of the student athletes, serving as his adopted grandmother since his own family lives some distance away. Our resident wrote a letter to the student's grandmother, describing how much she appreciated his presence in her life. Later, when the student's mom and grandmother came for a visit, he made sure they got to visit his Magnolia Manor Grandma, too.
Another of our residents is a retired professional bodybuilder. He may be older now, but he's still in great physical condition and he's full of stories about his life, especially his world travels and motorcycle riding experiences. As you can imagine, he's found a very attentive audience in our student athletes, who just love to sit and talk with him.
Won't You Join Us?
Reading about these activities makes you wish you could be there, too, doesn't it? The chance to make extra-special connections is one of the reasons seniors choose Magnolia Manor as their retirement headquarters. It's something to think about. When you're ready to consider senior living for yourself or a loved one, we're here to listen to your needs and preferences and help you make the right decision. Contact us online or give us a call at 855.540.LIFE (5433).