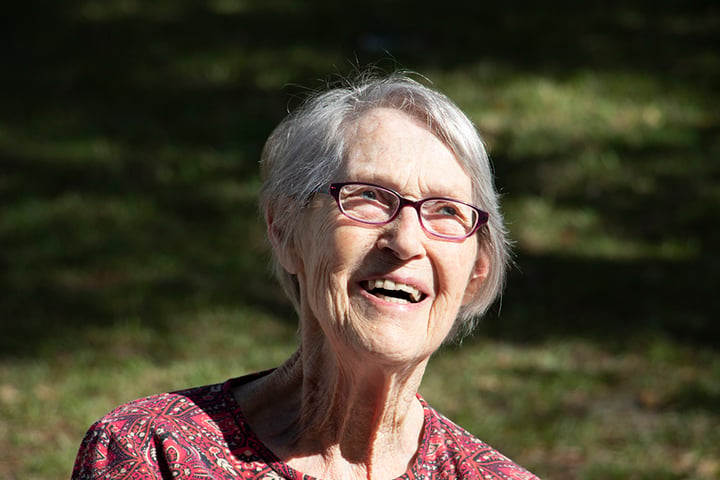 Here at Magnolia Manor, we consider every resident to be a member of our family as well as yours. Since the coronavirus first became known, we have taken maximum precautions that go beyond CDC and State of Georgia guidelines to protect our residents and staff from this very serious health concern. It hasn't been fun, but it is important! And our diligent efforts are paying off.
Besides, we are still having fun around here. And there are plenty of ways for families and residents to have fun together while apart.
Window Visits? Maybe...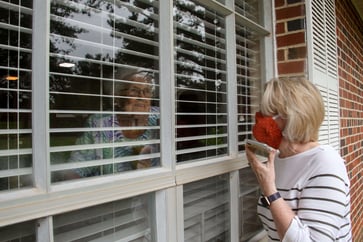 The coronavirus pandemic has added several new words and phrases to our lexicon. One of those is "window visits," where adult children and grandchildren who live nearby can visit with their loved one through the window, at a safe distance. This works well under certain circumstances, but unfortunately, it simply poses many risks for our residents. Check with the administrator at your loved one's community to see if closed window visits are permitted at this time.
All it takes is for one person to open their window or step out onto their patio and converse too closely with a loved one who unknowingly has COVID-19, and we could have a widespread infection within our community. No one wants that, no matter how much one may want to get close to their Mom or Grandpa. We all wait impatiently for the day when this situation goes away, so we can hug and kiss and dance with our loved ones once again.
Meanwhile, we're showing off our good, old-fashioned American ingenuity and getting creative with social distance visiting. We're keeping our residents busy but safe within our Magnolia Manor communities, but we also want to facilitate "visits" in safely appropriate ways.
Family Connect Keeps Everyone in Touch

We instituted Family Connect within all our communities, to help residents use digital video options such as Skype or Facetime to converse visually with family members. Some residents have their own computers or smartphones, but Family Connect ensures everyone has access to communications technology (and staff to help them use it if needed).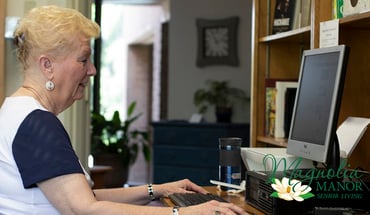 Families are using technology to talk and show video tours from home, etc. It's been great. More than great. But as time goes on, we want to do more. While you can't physically visit your loved one, any device with a screen is its own sort of window. So if you're looking for new ways to spice up your digital visits, here are some creative ideas. Think of them as coronavirus-inspired e-games.
Do some light exercises together, with or without jazzy music.
Sing songs together.
Do you play an instrument? Serenade Mom with a live performance.
Get yourself a small whiteboard and markers (and order a set for Mom, too). Then you can write messages or draw pictures for one another even as you're talking. Play trivia games using big flashcards with pre-written questions, or play charades, taking turns writing your answers on your whiteboard.
Did your daughter just learn to do cartwheels, your son to stand on his head? Let's see that in person, not just in a photo! Show off the grandkids' latest artwork or craft projects.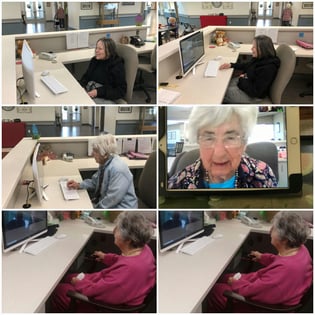 Here at Magnolia Manor, we are faith-based so we understand the solace and support prayer can bring to residents who feel (justly) isolated and who are missing the chance to physically touch loved ones. A few moments shared in silent or spoken prayer may be just the spiritual lift your loved one needs today.
We Encourage You to Virtually Visit
Social distance visits are a source of indescribable joy for our residents – and for family members as well. If you need help getting properly connected, just give us a call at 855-540-LIFE (5433) and we'll make sure you and your loved one can stay in touch.