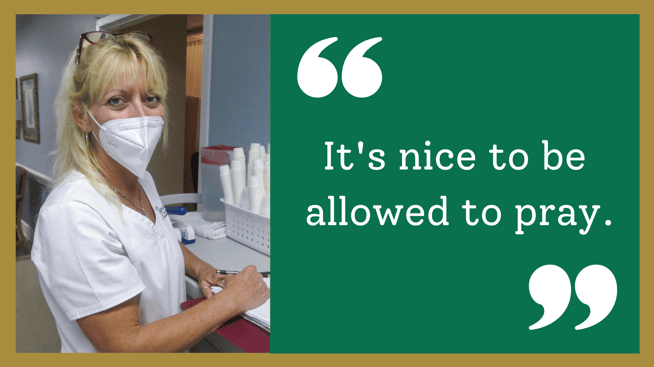 We are blessed to have so many wonderful staff members at Magnolia Manor. We love and appreciate every one of them and we know our residents do, too. Each of them is inspiring in their own way. And, often, they tell us they're the ones who feel inspired by the residents they get to interact with every day. It's no wonder Magnolia Manor feels like family.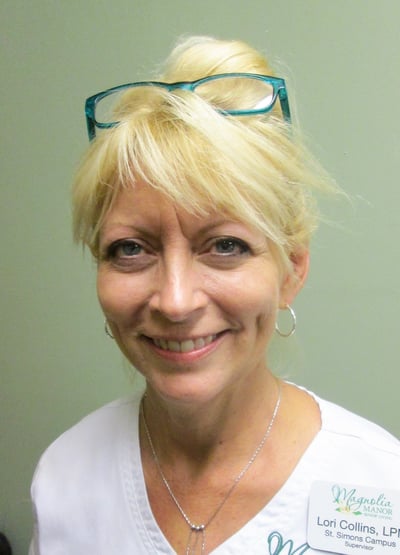 Let's Meet Lori Collins
Lori is a Licensed Practical Nurse (LPN) who works at Magnolia Manor St. Simons Island. She's been with us for four years. Her job entails working with long-term residents in our skilled nursing center as well as short-term rehabilitation patients who are here for physical or occupational therapy.
Prior to the pandemic, one of Lori's favorite responsibilities was doing restorative nursing. This program is especially nice, she says, because each resident has their own exercise plan, designed to help them maintain maximum movement capabilities. Pre-pandemic, residents could participate together in an exercise group, accompanied by energizing music.
These are primarily sitting exercises, Lori explains, because many of the residents are in wheelchairs. For those who are ambulatory, Lori and her fellow nurses would walk with them back to their room when the exercise period was over. Lori says residents (and staff) are looking forward to the day when they can exercise together again.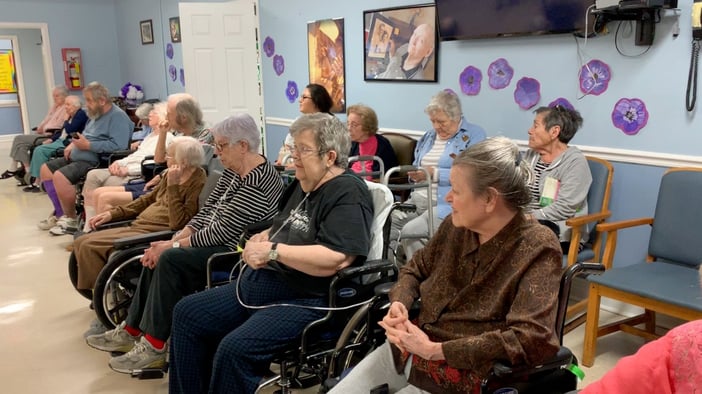 Meanwhile, Lori has been working as a charge nurse on the 3-11pm shift. This means she gets to be there at dinner time for the residents and also checks on them at bed time. In between, she puts her listening skills to work. The pandemic has been hard on residents, she explains. Families can't visit, and there has been no traditional interaction among the residents. Sometimes, Lori reports, residents put on their call light and it's really for some minor request – really, they just want to talk.
It's a Calling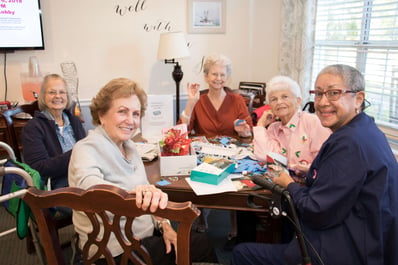 Lori agrees with her boss, who says it's a calling to work at Magnolia Manor. "Everybody is so nice," she says. "I like all the girls I work with, and I like all the residents." Having worked as an LPN in other locations before coming to Magnolia Manor, Lori says the biggest difference is that Magnolia Manor is faith-based. "It's nice to be allowed to pray," she says. Residents can also attend Bible study groups, and the chaplain comes around to visit with residents individually.
Meet More People at Magnolia Manor
One easy way to learn more about our staff members and hear their individual stories is by reading our quarterly magazine, Manor Living. Every issue is filled with informative and heart-warming stories about our staff and our residents. You can read the magazine online whenever you like, or you can subscribe so you never miss an issue.
And of course if you would like to speak to one of our friendly staff members about senior living opportunities at Magnolia Manor, we encourage you to contact us at 855-540-3455.