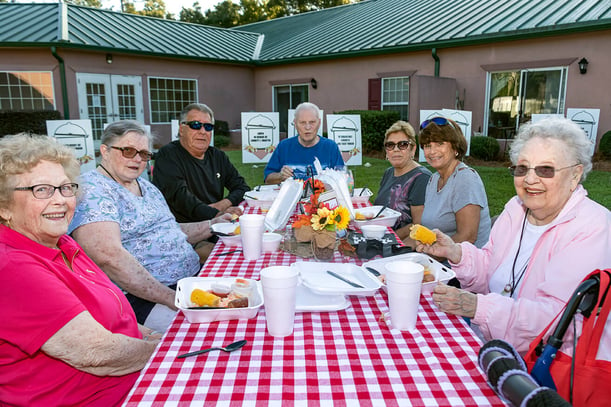 Surely, you're not one of those people who thinks senior living communities have lousy food! If so, you haven't had a meal at Magnolia Manor! Long gone are the days when bland was the order of the day.
This is the South, and we're all about Southern cuisine. That's what our residents want, and our mission is to serve our seniors in every way – body and soul.
So fire up your taste buds, and let's see what's cooking. Derinda Harris, Dietary Manager at Magnolia Manor in Macon, is our guide.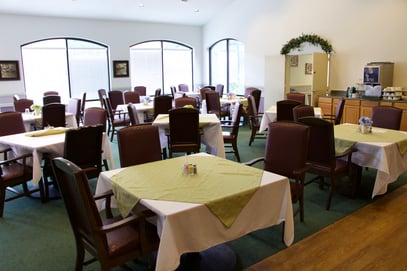 Our Dining Rooms
Independent living residents at Macon come together for a meal at midday. There are usually about 115 independent living residents, so Derinda and her staff work out of a big kitchen. On the assisted living side, there are fewer residents to feed and they can choose to eat in the dining room or have room service. So even though they get breakfast, lunch, and dinner, the assisted living kitchen is smaller.
For efficiency's sake, Derinda usually plans the same lunch menu for both groups. However, since there are fewer mouths to feed in assisted living, she sometimes plans menus around what's in the freezer, to make sure nothing stays in there too long.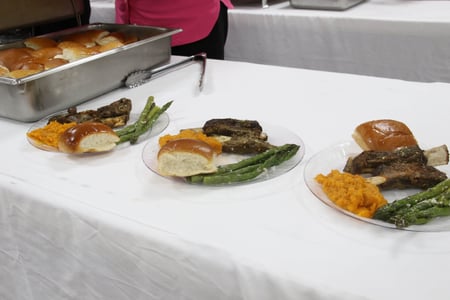 Our Menus
Tuck in your bib and grab a napkin, because we're talking mouth-watering options. Today's lunch menu for both independent and assisted living offers choices including:
Barbequed chicken
Philly steak sandwiches
Field peas
Snap peas
French fries
Potato salad
Wait. Philly steak? That's not Southern cuisine. Derinda admits as much but says she likes to try out new things to keep meals interesting for residents. If they love it, it stays. If not, it's off the menu. Philly steak sandwiches were an instant hit.
Other lunch and dinner favorites in Macon?
Mac and cheese
Fried chicken
Meatloaf
Corn nuggets
Collards
Fried pork chops with cabbage
Derinda takes requests, too. For example, although she's not a fan of liver she does prepare it because residents do like it, and they asked for it. "If my residents are happy, I'm good with it!"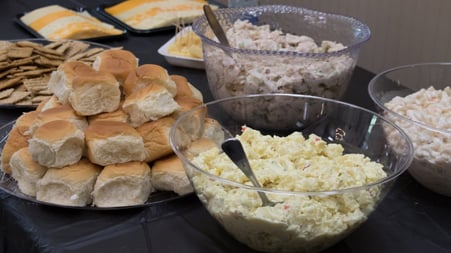 Lucky Assisted Living Residents Get Breakfast
You'd get up early, too, if you could feast on the scrumptious array of goodies available for breakfast. (No, not everything is available every day):
Grits (regular or cheese)
Oatmeal
Cold cereal
Biscuits and gravy
Toast (plain or raisin)
Hash browns
Danish
Bacon
Sausage
Salmon croquettes
Eggs over easy (by request)
Since the independent living residents are only served lunch, once a month Derinda changes things up by serving brunch at 10am on a Friday instead.
Bacon
Sausage
Salmon croquettes
Eggs
Hash browns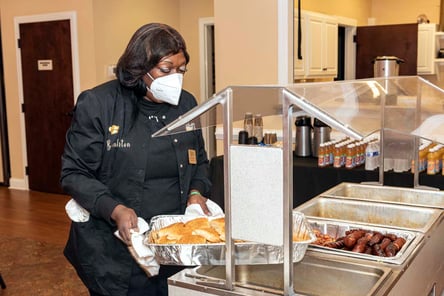 Service with a Smile . . . and a Chat with the Chef
Normally, we offer plated meal service in our dining rooms, where each resident makes their choices from the day's menu just like in any other restaurant. However, during the pandemic we've been doing a buffet to make distancing easier. Derinda sometimes serves the line herself so she can chat with the residents.
To promote healthy eating, she encourages everyone to load up on veggies, as many as they like. She also encourages residents to load up their plates – they can eat half now and take away the other half to eat later. If there is leftover food after everyone has been served, seconds are always available.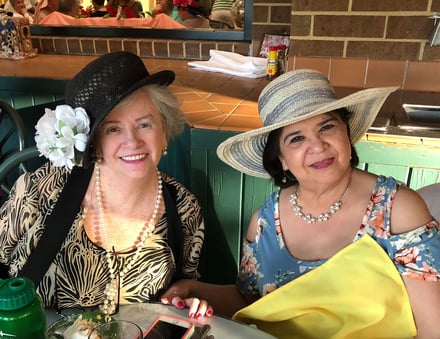 Why is the food so good at Magnolia Manor?
It's more than the tasty Southern cuisine. "I cook with passion," says Derinda. "I don't serve anything I wouldn't put in my own mouth." So, has Derinda ever served up a mistake?
Well, one time she was away and someone else made the chicken and dumplings. When she returned, her voicemail box was filled with complaints. It seems there was a distinct lack of chicken and the "dumplings" were more like big pieces of bread. One resident said, "Baby, you do a wonderful job, but if you don't know how to make proper chicken and dumplings, we old people will show you!"
Take a tour and have a taste for yourself
When you visit any of our nine campuses for a guided tour, you also get a chance to try our tasty food – for free. That's right. Enjoy a southern home-cooked meal on us and taste for yourself how delicious and nutritious our food is. (Note: due to COVID, some campuses might not offer a meal with a tour at this time). Find out more by contacting us online or giving us a call at (855) 540-LIFE.