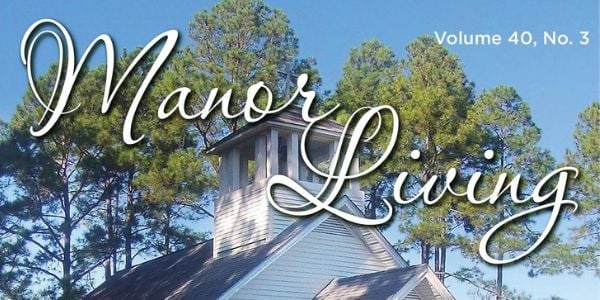 At Magnolia Manor, we are all about living life to the fullest. We're busy doing practical, everyday things. We're taking care of ourselves and those around us, physically and spiritually. And – of course – we're having plenty of fun (even despite the pandemic). But, with so many residents and staff members spread over nine campuses throughout southern Georgia, it is virtually impossible to stay abreast of all the happenings in every location.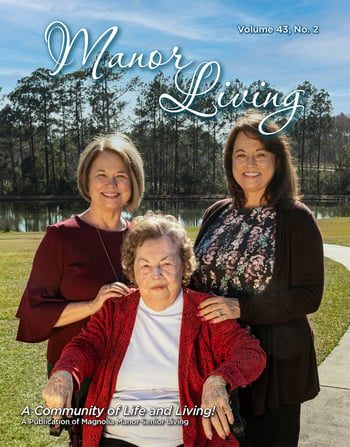 That's why we created a quarterly magazine to tell our stories to anyone who is interested. And we know there are a lot of folks who want to keep up with what's new at Magnolia Manor. Families, friends, community members, and contributors who join us as volunteers and monetary donors through our Methodist Church affiliations and other outreach programs – they all want to share the experience we call Manor Living.
So that's what we call our magazine.
Manor Living, in Word and Pictures (Lots of Pictures)
What's inside our magazine? Informational updates from our President and CEO Mark Todd and our SVP for Communications Ty Kinslow. And stories that will inspire and uplift you – stories about real people, because people are at the core of all we do. You'll meet residents and staff members you'd never encounter otherwise, and be mightily impressed at what an interesting and impressive group they are.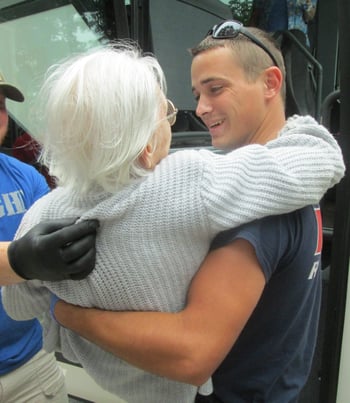 Every issue includes stories such as:
Staff profiles about wonderful people like Joshlyn Chester, LPN, who assists residents at St. Simons Island
Resident profiles that give a glimpse into each person's life and achievements
Profiles of campus chaplains like Nancylee Cater, who leads our Macon residents in all things faith-based
Creative Corner, which showcases one of our musically or artistically talented residents. In the most recent issue, you'll meet Gretchen Miller at St. Marys, who cross-stitches intricately detailed illustrations on blank canvas.
Special occasions – for example, last summer we did a big feature on Grandparents' Day, our favorite August celebration
Round-up of the past quarter's events and activities in photos
And, yes, just a little occasional bragging -- after all, it's not every day you win a Gold National Quality Award! You can read all about that in the Fall 2021 issue.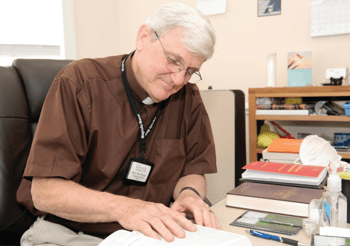 Manor Living Magazine has been an extra-special blessing for families and friends isolated from personal visits during the pandemic, helping them stay up to date on how we've been faring "behind closed doors." And with personal tours also curtailed this past couple of years, the magazine has offered prospective residents and their families the chance to get a behind-the-scenes look at what life is like at Magnolia Manor.
Manor Living Magazine is also an excellent resource for prospective residents – independent individuals just beginning to consider the possibilities of moving to a senior living community, and also seniors and families considering their future need for assisted living or another more advanced care level. These decisions are very personal, and they can be very difficult emotionally, so being able to get a feel for what it will be like goes a long way toward building peace of mind.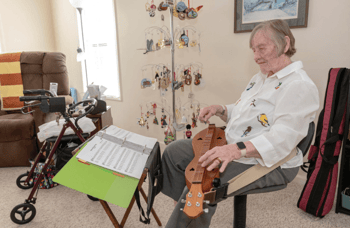 Ready to Dive In?
You can read Manor Living online here. Not only the current issue, but if you want to catch up on what's been happening or you simply want to go back in time to see one of our archived issues, you can easily do that.
Or, if you're one of those people who would rather hold the magazine in hand and turn the pages as you read, we understand. Simply subscribe to Manor Living and we'll send it right to your mailbox every quarter. It's free.
If you have questions about our magazine or senior living at Magnolia Manor, please contact us online or give us a call at (855) 540-LIFE.