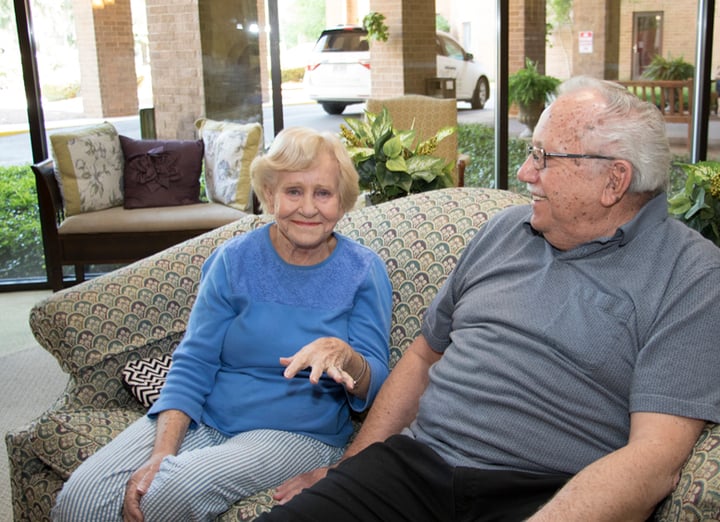 Whether you're considering some type of senior living community for yourself or a loved one, you will want the best environment and accommodations you can find. After all, this will be your new home – or the new home of someone very dear to you. However, for most of us, cost plays a role in our decision-making when it comes to momentous matters such as living arrangements.
At Magnolia Manor, we understand because we talk with seniors and their families every day about their challenges and the choices available to them. Naturally, everyone wants to know what various options will cost. And, frankly, their first reaction is sometimes, "Gee, that seems like a lot." In truth, though, senior living can be surprisingly affordable, once you compare all of the costs and benefits to your current situation.
Comparing Apples to Apples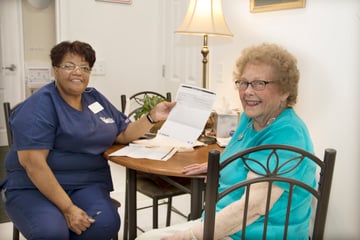 It is easy to forget that the cost of living in a senior community includes more than rent, whether you choose a place that offers basic necessities or a community such as Magnolia Manor that offers a wealth of features and opportunities for residents. Some communities also offer optional extras that cost more.
It is also easy to forget all of the things you currently pay for related to daily living, things beyond your mortgage or rent payment. Utilities, TV, housekeeping, home and yard maintenance, repairs, laundry, transportation, food . . . the more you think about it, the longer your list grows. In an independent or assisted living community, many of these everyday expenses are rolled into your single monthly fee. Assisted living also includes services relating to personalized help with activities of daily living and medication management.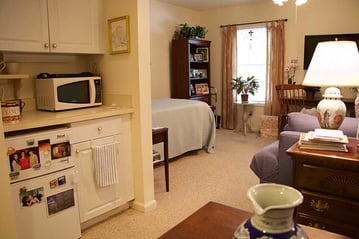 Our Online Cost Calculator Makes It Easy to Compare Accurately
Just a few simple clicks, and you can see the types of housing available at each of our campuses, their key features, floorplans, and monthly cost. Then you can use the tool to compare side-by-side your current expenses versus what will be included in your monthly resident fee. Here's how it works.
Example #1: Independent Living
Let's say we want to live at Americus, so we choose that from the list of Magnolia Manor campuses
We choose Independent Living as our housing option
We see there are four types of housing available – 1-bedroom apartments with private garden or carport, or 2-bedroom villas or cottages. We want a cottage, so we click to see its floorplan and cost calculator. We notice that, since this is independent living, the monthly fee does not include food but does cover amenities such as housekeeping, cable TV, and the fitness center.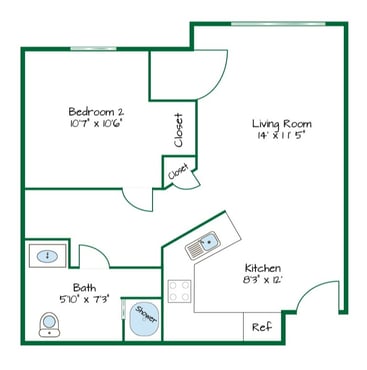 Example #2: Assisted Living
Let's choose Richmond Hill from the list of campuses
Then we'll click on Assisted Living
Here there are both 1-bedroom and 2-bedroom apartments – the floorplan for the 1-bedroom shows a nice patio or balcony. Looking at the cost calculator, we note that meals and snacks are included (among other amenities) in the monthly cost.
Floorplans are downloadable, so you can print them out and start picturing yourself living in the space. Please note that because memory care, skilled nursing, and rehabilitation services are highly personalized for each person, we request that you contact us directly to discuss costs.
Though costs may change over time, we strive to keep our accommodations as affordable as possible while providing high quality, varied opportunities to live life to the fullest in mind, body, and spirit.
Find Out More
Our friendly, caring, and knowledgeable staff are always happy to talk about living at Magnolia Manor, including costs. Soon, we hope to resume giving personal tours as well. So give us a call at 855-540-5433 or contact us online, to chat and to get on the waiting list for a tour.