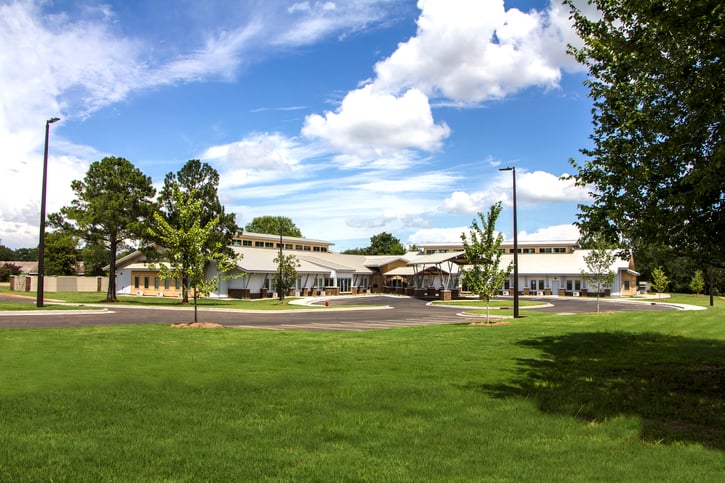 One of so many reasons seniors love to live at Magnolia Manor is our truly amazing staff. We know we are blessed to have such dedicated, caring people to assist and support our residents – and our residents know it, too. When we say we treat one another – staff and residents -- like family, it is simply the truth.
From time to time we like to introduce our outstanding staff. So let's find out more about Charlotte Ingram. Charlotte is the Activities Director at our well-known Mattie H. Marshall Memory Care Center, located on our Magnolia Manor campus in Americus. She works with residents who have Alzheimer's or another form of dementia or cognitive impairment.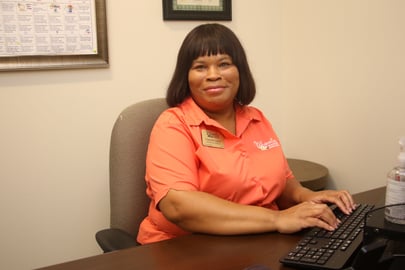 New Challenges Every Day
Charlotte's job is different every day, she says, sometimes every hour. "I literally go into their world. If, in their mind, they're at home with Mama or at the store picking up stuff for their kids, that's where we are." She uses whatever is on the resident's mind to spark conversation, then lets the interaction go from there. Sometimes the interplay involves physical activity. For instance, if the resident thinks she's preparing an after-school snack for her children, then Charlotte works with her to prepare a snack.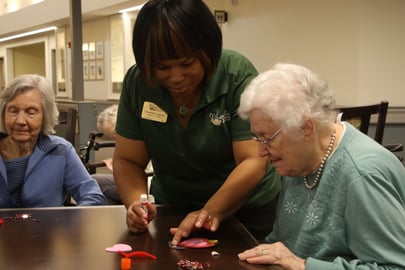 Because residents at the Mattie H. Marshall Center are at different stages of dementia, Charlotte also organizes group activities for those at a similar level. No one gets left out. She says residents particularly like bingo, and if someone needs help placing their markers, then they get that help so they can continue to play along.
Domestic chores are another common activity because Alzheimer's patients often remember things they routinely did around the house or at work. So Charlotte might work with a resident to fold and sort laundry, or pair socks or other domestic exercises. If a resident worked as a secretary, then Charlotte might sit her down at a desk with a notepad and pen. These activities help with cognitive function and also help maintain small muscle and hand-eye coordination.
Charlotte notes that new residents are the toughest challenge of all because change is particularly difficult for memory patients. They're leaving their home, or another memory care community, so Charlotte tries to make their new space feel welcoming and as familiar as possible. She learns ahead of time what they like to do and tries to have something special and recognizable in their room when they arrive.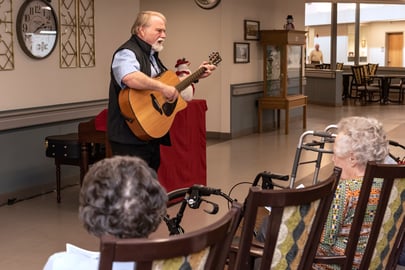 Music Is Another Go-To Activity
Music is often an important presence for dementia patients because it evokes older memories, and Charlotte says her residents all love music, especially older songs. "They can't remember what's happening now," she explains, "but they remember back then. They can sing the songs all the way through."
"I Learn Something Every Day"
That's what Charlotte says she likes best about her job. "It's a ministry for me," she explains, "serving God's elderly people. It's my gift to them, sharing what He put inside of me."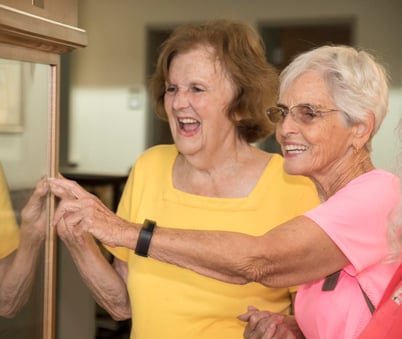 For memory care patients with a strong faith, those beliefs still resonate. The chaplain comes to do devotions, sing spiritual songs with the residents and perform services twice a week. Charlotte sometimes assists, reading scripture or devotions to residents who can no longer read the Bible on their own.
Charlotte has devotedly served Magnolia Manor residents for 17 years. She worked as the Activities Assistant in the Nursing Center, where she dealt with all types of residents, both ambulatory and wheelchair bound. She then moved to a different part of that unit and learned how to work with memory care patients. She also has formal training through the State of Georgia and the Alzheimer's Association.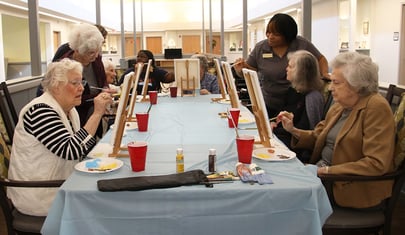 For Charlotte, It's Personal
If not for Magnolia Manor, where would these patients go? She wonders. Magnolia Manor offers a place where people with love and compassion take care of those with a diminishing memory. Charlotte understands this first-hand because her own mother was a dementia patient in the memory care center. That experience drives her to ensure she is taking care of residents as much as possible, knowing each one is someone's mother or auntie or father or uncle who deserves the best every moment.
Like so many Magnolia Manor staff members, Charlotte Ingram says she does her best to give her all, every moment.
See For Yourself
Schedule a free tour at any one of our nine Magnolia Manor campuses in south Georgia and see for yourself how dedicated and compassionate our staff is. For questions about memory care or to schedule a visit, contact us at 1-855-540-LIFE.