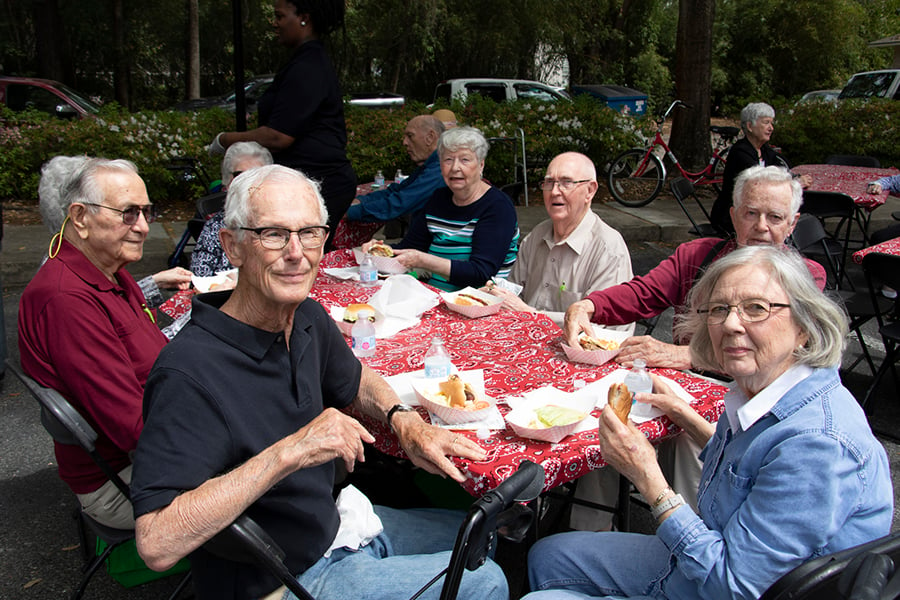 As we age, health conditions or limitations can make it difficult to drive, visit family and friends, and participate in activities and social gatherings at the same levels as we did in the past.
For seniors, this restriction can have a detrimental effect on their health. However, being socially active has been shown repeatedly to have an often dramatic, positive impact on senior health. To start, studies indicate seniors who actively engage in creative activities are less likely to suffer from depression, make three fewer doctor visits per year, and take an average of two fewer medications than their less-active counterparts.
Let's take a closer look at just a few benefits of being socially active for seniors: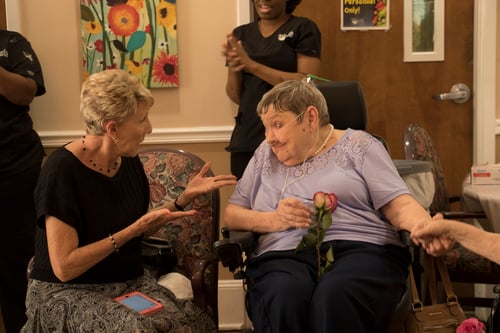 1. Social well-being can reduce the risk of chronic diseases.
Powerful research from the National Institute on Aging found that social well-being ties directly to lower levels of interleukin-6. That may not instantly ring a bell, but interleukin-6 is an inflammatory marker that correlates to instances of Alzheimer's disease, osteoporosis, rheumatoid arthritis, cardiovascular disease, and some forms of cancer.
2. Strong emotional bonds often lead to healthier habits.
Research shows, for example, that grandparents who care for their grandchildren believe that the strong emotional bond that comes from close time with grandchildren helps them make better choices about the food they eat, lead more active lifestyles, and may even impact smoking habits.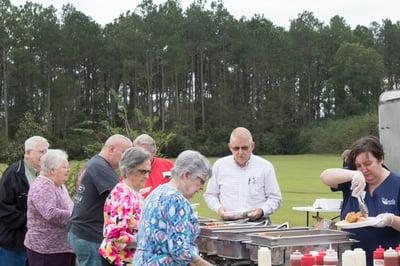 3. Being socially active can stave off loneliness and feelings of isolation.
Many seniors report feeling isolated and lonely, which can have negative repercussions on senior health. Feelings of loneliness have even been shown to increase blood pressure! Science proves that interacting with others improves our sense of well-being and decreases feelings of depression.
Senior living at Magnolia Manor helps seniors live their best lives
At Magnolia Manor, our caring staff is committed to providing for the physical, emotional, social, and spiritual needs of our senior residents. We provide several levels of care in our eight campuses across southern Georgia. Each community provides a robust offering of activities to encourage the benefits of being socially active, including: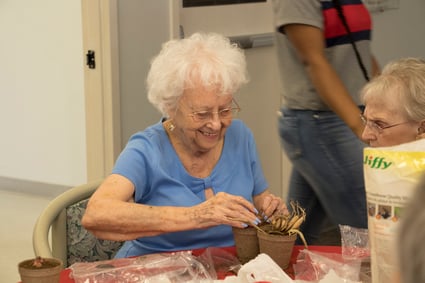 Opportunities to get the creative juices flowing.
To help our residents engage their inner artist and pursue a love of all things creative, Magnolia Manor offers regular activities involving music, painting, writing, storytelling, and other fine arts. Residents engage in these activities together, with volunteers, and even at other locations throughout the community.
Residents can also learn the basics of personal computer, engage in horticulture, dig into novels and other books, and more.
Events to fill calendars and try new things.
It's fun to have regular classes and activities to look forward to, but sometimes we all want to change things up a little. That's why our event calendars across our eight Magnolia Manor communities are always filled with old favorites and new, exciting events. Our residents love sharing in these events with each other, and experiencing new things.
Whether it's a favorite hobby like fishing, or a new challenge like walking or running a mile, Magnolia Manor has a calendar full of events to flex your muscles and have fun with other residents and family.
Magnolia Manor can help your senior loved ones enjoy the benefits of being socially active.
If Mom or Dad seems to be struggling with feelings of isolation or depression, or you simply want a better life for your senior loved ones, Magnolia Manor can help. First, this resource can help you have "The Talk" with your loved ones. Then, call us at 855-540-LIFE(5433) to schedule a tour and learn more about our eight campuses across South Georgia. We are here to help!