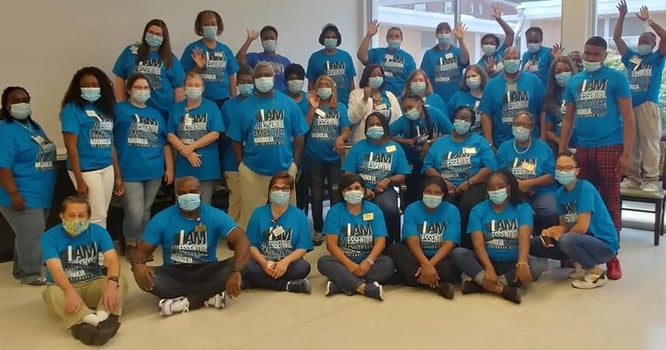 One of the things that distinguishes Magnolia Manor from other senior living communities is the sense of family among staff and residents that permeates all aspects of everyday life and care. In this environment, it's no surprise that everyone has stepped up to pitch in and make the best of the COVID-19 pandemic. And, boy, do we appreciate these everyday heroes!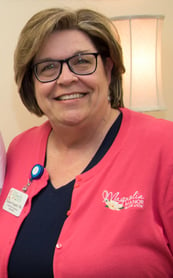 We chatted with Susie Fussell, Administrator at the Americus Nursing Center, to learn more. Early on, the Nursing Center created a special COVID-19 Unit, to treat patients who contracted the virus and had to be isolated. The "C-19 Team," as Susie calls her front-line providers, is comprised of 14 RNs, LPNs, and CNAs, all of whom volunteered for this potentially dangerous assignment. "They stepped up," says Susie proudly, "and they've worked the whole time, whenever we had a positive-test resident in the unit."
That is no easy feat. Staff members have to remain flexible, yet ensure care is consistent around the clock. At times, they have gone many days without taking a day off. They are working in isolation, in order to avoid cross-contamination within the Nursing Center which could potentially spread the virus. As a result the C-19 Team has to come and go via their own separate entrance and remain apart from other co-workers.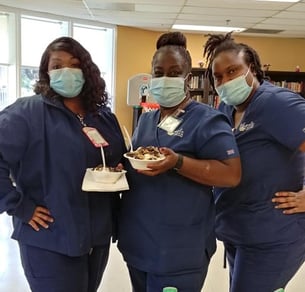 Everyone Has a Role
It's not only medical staff who are going above and beyond. Everyone from housekeepers to the dietary department has played a role in keeping residents safe during these unusual times. And every single staffer, regardless of regular job position, has learned how to man the front door. With stringent COVID-19 procedures in place, there is just one special entrance for access and egress. That door must be monitored, and anyone entering the facility must be screened.
It's very difficult to single out any individual who stands out in this effort, because everyone is doing their part and then some. Nonetheless, Susie says there are two people who deserve special recognition.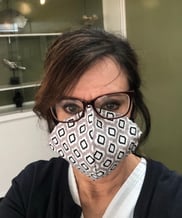 Sharon Stocking, Infection Control Preventionist, Americus Nursing Center
Sharon, who previously served as Director of Nursing, also manages the Nursing Center's Quality Department. That includes infection control as well as staff development and education – something that has become even more important since coronavirus is new to the medical community as well as everyone else. Susie says that Sharon and the two nurses working under her have truly come together as a team to provide vital Personal Protection Equipment (PPE) training and isolation care training. They are also responsible for daily PPE allocations. "It's a huge challenge," says Susie.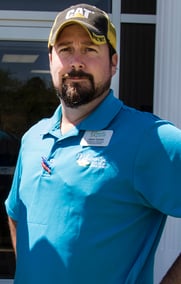 Jason Guined, Maintenance Director, Americus Nursing Center
"The staff has lovingly named Jason, 'MacGyver'," Susie laughs. She describes him as the "true driver" of the Nursing Center's COVID-19 response. Having previously worked in maintenance at an acute nursing hospital, he knows the specialized isolation techniques required. "He and Sharon had to re-engineer some space to accommodate advanced isolation patients," Susie explains. The two have worked in tandem through the coronavirus pandemic.
"It's wonderful to have staff (lots of staff!) who can use their previous work experiences in acute care, etc. and apply them in this setting. They draw from their individual knowledge bases to respond quickly and make good decisions to protect employees and residents." As Administrator, Susie is particularly thankful to have staff that can "critically think, be flexible, and figure out how to get things done in a short period."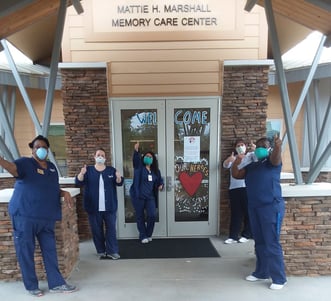 Taking Responsibility 24/7
Nursing Center staff have embraced their special responsibilities at home as well as at work. They share with immediate and extended family members, their friends, and their church what they have learned from their specialized COVID-19 training, teaching others how to protect themselves and their own family members.
Staffers are also careful to temper what they do outside of the workplace. They are always aware that they have to go back to work, and the last thing anyone wants to do is endanger co-workers or residents
We're Still Doing It
While we speak of all the things we have done to protect our residents and staff and to reduce the everyday effects of the COVID-19 pandemic, this is an effort which is ongoing. We aren't letting up because safety is always our number one priority. Vigilance is the only sure way for all of us to stay healthy. It's the kind of detail we take very seriously here at Magnolia Manor. If you're interested in learning more about Magnolia Manor, please give us a call at 855-540-LIFE (5433).