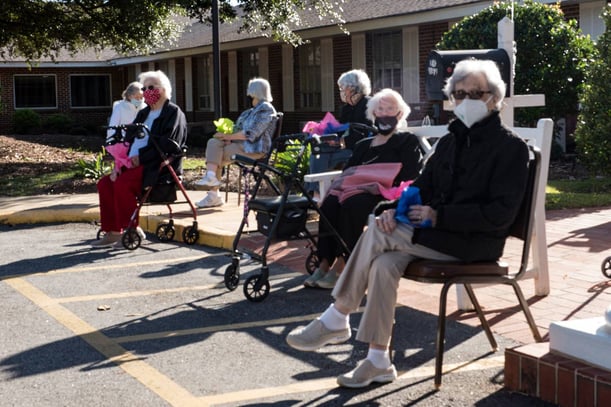 Even though it seems as if life completely shut down for nearly all of 2020 because of the pandemic, the truth is that life goes on, no matter what. Sometimes that includes moving from one home to another. So, with all the restrictions surrounding COVID-19, what was it like to move to a senior living community during this time?
The pandemic may have posed problems for some, but for at least one new resident at Magnolia Manor in Macon, everything about her move brought happiness. Dorothy Wood moved into an independent living apartment around Thanksgiving. She is an expert on moving, having gone through the process 22 times. Her late husband was a builder who constructed homes they lived in and then sold, moving on to the next project.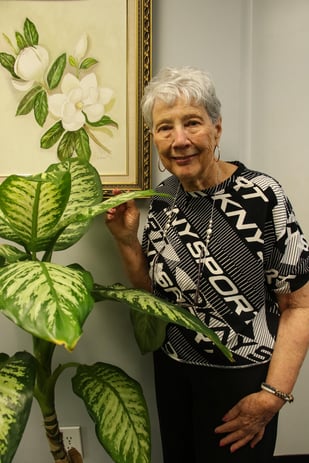 Making the Move to Magnolia Manor
Dorothy had been living with her niece in Alpharetta for about three years, but then her niece's family moved to Baton Rouge. Rather than go with them, Dorothy chose to move to Macon, where her granddaughter lives. As she was searching for an apartment, she drove by Magnolia Manor.
"I saw people out walking, people my age," she says. "Everything looked so nice!" She inquired and learned there was a waiting list – she was #11. So she rented another apartment and waited.
"I was so happy when I got the response that an apartment was available," she exclaims. You can hear the smile in her voice. "I was so happy to move in." That part was easy, not only because Dorothy is an experienced mover but because family trumps COVID. Dorothy's granddaughter, who is a nurse in Macon, and her husband, who is a firefighter, both helped. And her grandson who is an attorney in Alabama came over to pitch in, too.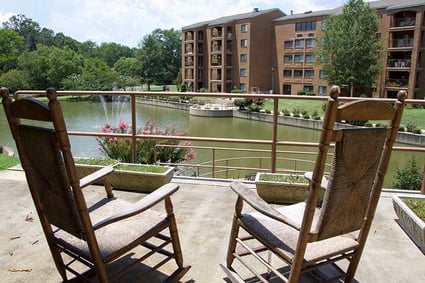 What Was It Like to Move In?
Ivy Bembry, Independent Living Administrator at Macon, tells us that although the Macon campus has an extremely high vaccination rate, new residents still have to undergo a COVID screening. They are introduced to key people within the first few days and given a welcome basket that includes information about who to contact if they need anything.
"I was met with happiness right away," Dorothy says. "People made a point of introducing themselves to me. Everyone was so friendly and eager to help."
It's easier to meet her new neighbors now, too, because Magnolia Manor is much more open as pandemic restrictions are lifted. Communal dining is back, and people can go outside and sit with each other-- doubly nice now that summer is almost here. Dorothy and other residents were able to celebrate a wonderful Mother's Day tea together.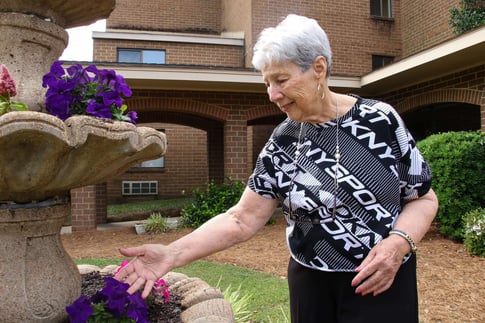 Ivy Bembry says independent living residents in particular were chafed under the pandemic restrictions put in place to protect all Magnolia Manor residents. Now, however, everyone is thrilled to get out. "Isolation is not good for the spirit and, for seniors, it's not good for maintaining mobility either," she notes. "Now everyone can get out and walk!
Like all of us, Dorothy Wood has had some ups and downs in her life, and losing her husband was especially difficult. But she didn't let the pandemic keep her from finding exactly the right place to live, or keep her from moving in as soon as possible. And how does she like Magnolia Manor so far? "It's been a blessing," she says, "in so many ways."
Schedule an In-Person Tour
When you're ready to move to a senior living community, we look forward to giving you the same warm welcome that Dorothy and all of our residents receive. Learn more about senior living at Magnolia Manor by contacting us online, scheduling a tour, or giving us a call at (855) 540-LIFE.