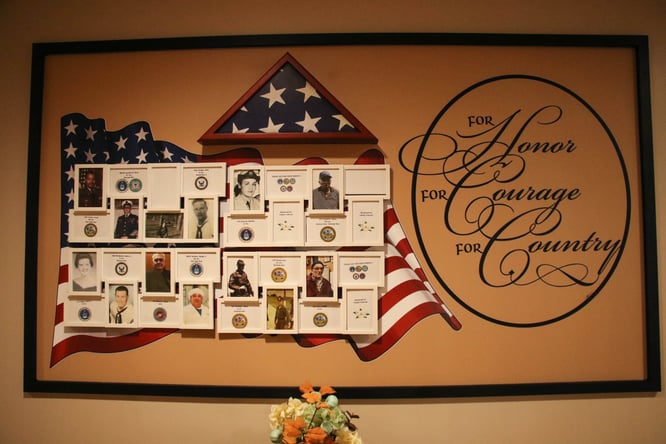 Most folks today know November 11th as Veterans Day. But there are those still living who can remember far enough back when this important day of honor was originally established as Armistice Day. World War I officially ended at 11am on November 11, 1918. And in 1921, America created the Tomb of the Unknown Soldier at Arlington National Cemetery and began a tradition of formally recognizing those who have served this country in the military.
Congress officially named Armistice Day in 1926, and the date became an official national holiday in 1938. In 1947, following World War II, this day of remembrance was renamed to reflect the nation's desire to acknowledge all veterans.
Where Were You When . . .
Here at Magnolia Manor, our residents are "of a certain age," so it's no surprise that we have veterans living among us who fought for this country as long ago as World War II and the Korean Conflict. What a blessing that we can still hear first-hand stories of their experiences and thank them in person for their service!
We honor them this month, as we join the rest of the country in celebrating Veterans Day. In particular, we want to salute Allen McHone and James L. McQuinn, residents at our Columbus campus, and Harry Katzman, from our Richmond Hill campus. Let's meet a few of them.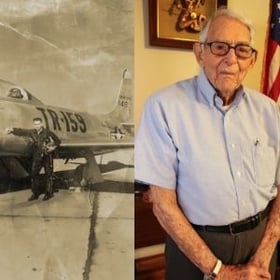 Harry Katzman enlisted in the Air Force at 19, shortly after receiving his pilot's license. Son of a World War I airman, Harry always wanted the same career. During his 21 years in the service, Harry flew as part of the Mighty Eighth Air Force.
He piloted 24 missions over Nazi territory, the last of which turned into a fire fight in which Harry was badly wounded in the leg. Another crew member stitched up the leg even as Harry piloted their disabled plane toward England. Thanks to an escort from some swift P-51 Mustangs, 7 of his 10-member crew made it back alive. Based on that mission, Harry was awarded the Distinguished Flying Cross and a Purple Heart.
After his wife Lydia passed away, Harry moved to Richmond Hill to be closer to his daughter. Prior to COVID-19, Harry still served as a tour guide at the Mighty Eighth Museum in Pooler, Georgia. To read more about Harry Katzman, subscribe to our magazine, Manor Living.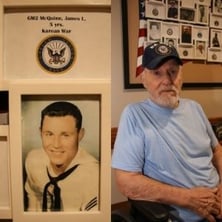 James McQuinn enlisted in the Navy at the age of 17 and served five years, primarily as a Gunner's Mate in Korea. Like so many young men of his era, he met his best friend, Bill Sweeney, in the Navy. Decades later, after suffering a stroke, he moved to Magnolia Manor. What does he like best about living here? "Staff that talk with me," he says. We take special pride in that answer, because we work hard every day to make our campuses feel homey and treat our residents like family members.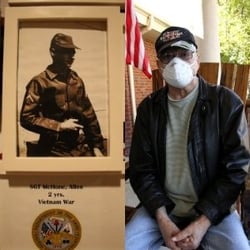 Allen McHone was a sergeant in the Army. He served two years and bravely fought in the Vietnam War. Today he's enjoying his senior years in Assisted Living at our Columbus campus.
Veteran or Not, We Welcome You to Magnolia Manor
If you're considering a move to a senior living community, we hope you will consider Magnolia Manor. Each of our nine campuses throughout Georgia is unique in its own way, but all reflect our commitment to top-quality care that serves residents in mind, body, and spirit. We invite you to contact us at 855-540-5433 to learn more.