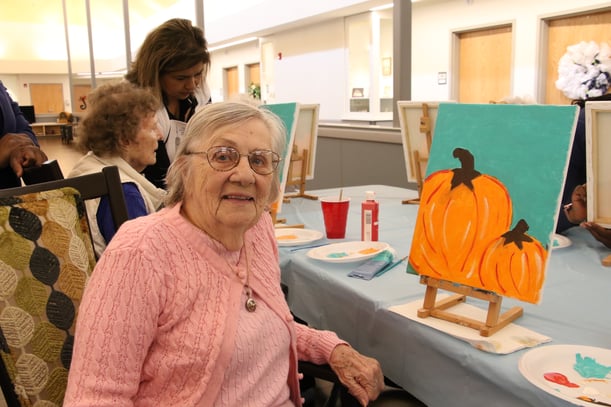 The pandemic continues, and we could all use something new to occupy our time, not to mention our hands and our minds, as we wait it out – especially seniors still deprived of in-person visits with loved ones. So here comes some well-timed good news: January is National Hobby Month.
What better time to reacquaint yourself with an old-favorite hobby, or to take up a brand new one. Focusing on something engrossing and learning new things are proven winners when it comes to re-fueling your mind, body, and spirit.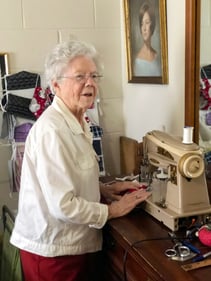 These Days, You Can Learn Virtually Anything Online
The possibilities are as diverse as seniors themselves. Let's look at some of the options that might appeal to you or a senior who is near and dear to you.
Maybe you have always wanted to:
Play the piano or some other musical instrument
Learn how to knit
Paint or draw
Quilt
Grow your own flowers or veggies (pots work nicely for small patios and indoors)
Arthritis, Argh!
Half of men and two-thirds of women 65 or older suffer from arthritis. It hurts, your joints feel stiff, and worst of all it's harder to do things. If you're an Assisted Living resident here at Magnolia Manor, you have all the help you need with activities of daily living, but hobbies are something you do for yourself. Don't give up, though, get creative! That's what hobbies are all about, and there are ways to modify many hobbies.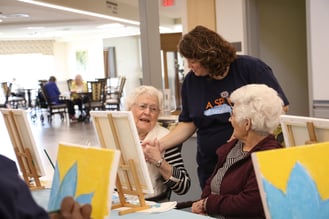 For example, if your fingers no longer allow for painting, drawing, or quilting, consider creating paper collages you can glue together. A small paper cutter can replace scissors, or you can tear paper into interesting shapes.
Don't let fading memory be a hindrance, either. For seniors with dementia, a memory box can provide many of the same benefits as hobbies. Keeping dementia patients as engaged as possible can help them feel calmer and more comfortable, and it may help slow disease progression.
Join a Book Club
Stay connected with neighbors as well as friends and family anywhere, maybe make some new online friends. Broaden your horizons by reading books you might not have considered on your own.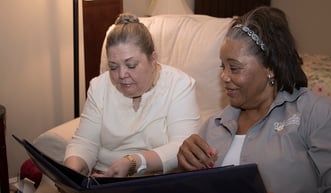 Delve into Your Past
Genealogy is almost addictive for anyone interested in history, and it's a great project to share with the grandkids. Make a family tree, and record stories about your own personal experiences for future generations.
Learn a Foreign Language
Just because you may never get to Greece or Japan or South America after all doesn't mean you can't get a little closer by learning some of the language. You can also polish existing skills by practicing online with others.
Help Someone Learn English
Are you a retired teacher who misses that special connection with students? Even without a teaching degree, you can become an online English teacher. (You will get paid, too.)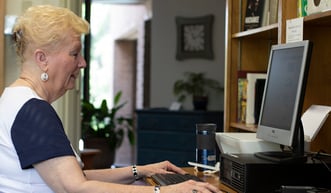 Improve Your Computer Skills
Computers and the internet have taken on new prominence in seniors' lives. Now that you've mastered Zoom and perhaps some other communication tools, it might be fun to dig deeper into how your computer works or how to use it in more ways. There are lots of free online resources available to learn more about computers and computing.
Write
Start a daily journal
Write short stories, poetry, raps or other song lyrics, plays, your memoirs
Invent stories for the grandkids
Compose essays on whatever's on your mind
Finally get started on your Great American Novel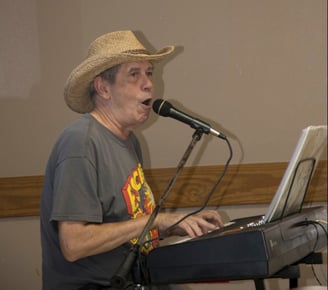 Sing
Singing doesn't require manual dexterity like playing an instrument. And whether you have an enviable voice or not, the point is to enjoy yourself and use a different set of brain cells.
Yoga
It's the perfect combination of stretching and relaxation. For beginner seniors, experts often recommend Hatha or lyengar yoga, or even chair yoga which provides a bit more stability.
Become a Virtual Volunteer
Today's seniors were brought up understanding the value of serving others. You cannot get out to do traditional volunteer activities these days, and your health may not allow that anymore, but you can still pitch in and help.
Volunteering engages your mind, your body (maybe), and it buoys the spirit in ways other activities cannot because you're giving of yourself.
Active Living at Magnolia Manor
We whole-heartedly believe in nourishing the mind, body, and soul of our residents. We offer a wide-range of hobbies and activities that appeal to a variety of interests and abilities. If you'd like to learn more about Senior Living at Magnolia Manor, feel free to contact us at 855-540-5433.